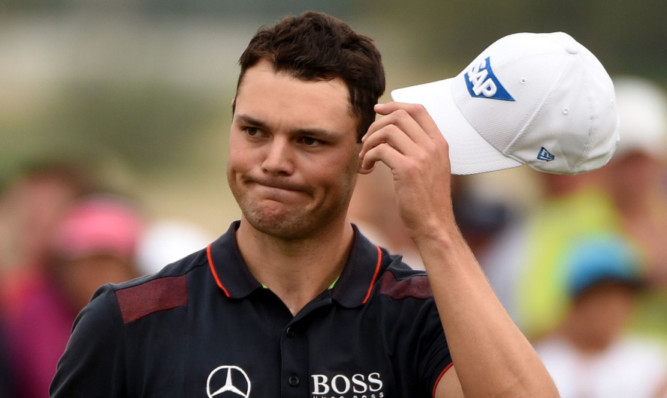 Prior to the Ryder Cup last year I was trying – not altogether successfully – to fashion a column suggesting ways that the USA might actually beat Europe.
It was a mixture of reverse-jinx and playing devil's advocate, I freely admit. There was no way, even then, that I really thought Europe would lose. That was even before it was uncovered that US skipper Tom Watson hadn't even BEEN to a Ryder Cup since he was previously captain back in 1993.
Anyway, one of my strands of thinking was that Paul McGinley could only be absolutely certain of two of his players, Justin Rose and Graeme McDowell. Every other member of the European team had been the victim of an on-course meltdown at some point in their careers, and there was no guarantee it wouldn't happen again.
It was clutching at non-existent straws, really. And that verdict is in no way diminished by what appeared to be an epochal collapse by Martin Kaymer at the Abu Dhabi Championship at the weekend.
Kaymer, the US Open champion and double major winner, was six shots clear of the field going into the third round, on a course he all but owns, having won there on three previous occasions. At one point he was TEN shots clear, but eventually finished two shots behind the unexpected winner, France's Gary Stal.
The history is already written on this one. Kaymer "choked", in the preferred vernacular, and a previously hapless nobody in Stal, 357th in the world, was gifted a life-changing title.
Except, that's not really what happened. Kaymer did hit the buffers in disturbing fashion, with a double bogey and a triple bogey when he appeared to be sailing.
But watching him throughout the weekend, you'd be hard pressed to say that he was ever truly on top of his game – the way he was when he last defended a monster lead, in the slightly more important US Open at Pinehurst last June.
His wasn't exactly a collapse waiting to happen, admittedly. But he shot 75, three-over. Hardly a score that merits inclusion in the great pantheon of collapses.
And the "choke" scenario completely ignores the fact that Stal shot 65 on the final day. The young man from Lyon is another of this conveyor belt of very decent French players that anyone who has watched the amateurs in recent years suspected was coming.
I also heard tell that Stal was the fourth "shock" winner in succession at Abu Dhabi, after Robert Rock, Jamie Donaldson and Pablo Larrazabal. All three of whom, if you need to be reminded, are solid European Tour players and proven winners, with Donaldson a whole lot better than that, despite the repeated attempts by some to characterise him as a happy-go-lucky Welsh opportunist.
"Choke" is one of golf's standard epithets, directed at anyone who appears to flinch at the slightest sign of pressure, and mostly uttered or written by those who wouldn't cope with a smidgeon of that pressure if they experienced it.
Kaymer, as he proved in winning the PGA Championship at Whistling Straits, that US Open at Pinehurst and specifically standing over the eight-footer on the final green at Medinah in 2012 – possibly the most chastening pressure situation experienced by anyone in modern golfing history – is no "choker".
It's not that long since even Rory McIlroy was being linked with the "ch" word.
One colleague insisted to me, prior to the Open last year, that there were "countless" occasions in which Rory had blown tournaments. There had probably been just three in his entire career, if you were being really uncharitable.
The truth is that Kaymer's in the first week of his season – McIlroy was as well – and is probably not even tournament-sharp yet. An untidy round in a tournament in January does not constitute "a choke".
It's an awful, almost sneering term. The truth, as shown by the record of the Ryder cup team, is that occasional collapses are part of the fabric of this maddening game even for the greatest players.
Rose and McDowell have just been lucky…so far.