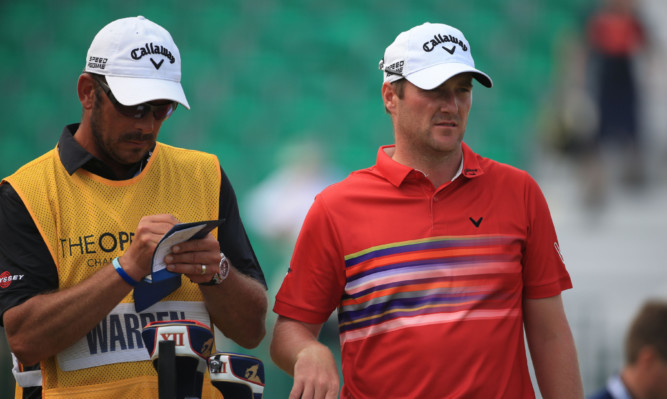 Marc Warren believes he is ready for the challenge of being an Open contender.
The Scot finds himself in the top 10 at Hoylake on five under par seven shots back from leader Rory McIlroy.
An outstanding four under par back nine was responsible for Warren's late-in-the-day charge up the leaderboard.
And the former Johnnie Walker champion feels he has the game and the experience to prosper over the weekend.
He said: "The USPGA last year was massive for me (he finished 12th). That gave me a taste of being in the last few groups of a major.
"I'll use that experience this weekend. Last week at the Scottish Open will help as well. This week hasn't just come out of the blue. It's been a progression.
"I played really well today. I was a bit disappointed with my finish yesterday so I was determined to have a really strong finish today. I did that.
"I hit a great drive off 18 and the wind was really kind to me. It might have been Bob helping me out."
Warren learned of the death of his former coach, Bob Torrance, after he signed for his 68.
He said: "It's a sad day for golf. A legend has passed away. He changed my career massively. Still to this day, and for the rest of my career, his words of wisdom will stay with me.
"When I first started seeing Bob it was 2002 and I was 80th on the Challenge Tour order of merit, and three months later I'd won twice.
"I was rookie of the year and I won the World Cup. I might not be playing at this level if it wasn't for him.
"I can't speak highly enough of him and his knowledge of the golf swing. He would give everything he had to make you the best player you could be.
"I'll be forever in his debt for that."
Stephen Gallacher is also in a good position for the weekend. He posted a level par 72 for a two-round total of two under.
The only other Scot to make the cut was Jamie McLeary at two over. Open new boy Paul McKechnie put up a spirited fight, and came within a shot of making it a Scottish quartet.
He was one under par for the day and grabbed two late birdies, but could only make it to three over for the tournament.
It was a calamitous Open for veteran former champion Sandy Lyle. He started his round with a double bogey and finished with a pair of them.
It all added up to a grand total of 12 over par for the day and 22 over for the championship.
You wouldn't go as far as describing Scott Jamieson's Open as calamitous. Very poor would do though.
Two 77s left him on 10 over par. All of Friday's damage was done on his front nine. There was an eagle in there, but also six bogeys and a triple bogey.
Jamieson's back nine was actually one the leaders would have gladly taken a blemish-free three under.
Paul Lawrie saw an improvement in his two over par 74, but unfortunately he hasn't qualified for the next two big events the WGC Bridgeton Invitational and the USPA Championship.
That means, after comfortably missing the cut at 10 over, his next competitive golf will be at a somewhat lower level.