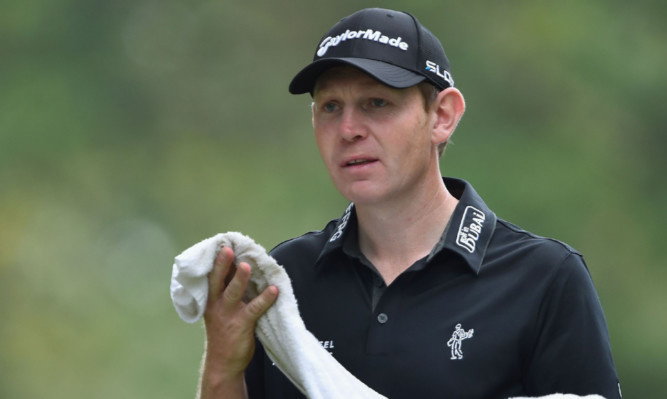 Europe's Ryder Cup captain Paul McGinley will face "the toughest part of my job in the next 24 hours" after Stephen Gallacher left him with an agonising wildcard choice in Sunday's dramatic finale to the Italian Open.
The Scot's final round of 65 in Turin took the qualifying race to the final shot of the final tournament but ended up an excruciating single stroke short of the mark that would have secured his place in the team at Gleneagles.
Instead, the absent new father Graeme McDowell qualifies just 1.61 points ahead of Gallacher in the World Ranking points list and the Scot is pitched back into what McGinley believes is a group of five players Luke Donald, Ian Poulter, Lee Westwood and Francesco Molinari are the others contending for his three wildcard spots in the European team.
Gallacher's heroic effort at Circolo Golf Torino came knowing he needed at least a share of second place with one other player to overhaul McDowell.
Lying 15 shots behind the lead after 27 holes of the tournament and six shots back heading into the final round, he got within two shots of winner Hennie Otto and held second place after an incredible six-under front nine of 30, but David Howell's equally stunning run of seven birdies in nine holes for a 63 denied the Scot second place by a shot.
McGinley was present in Italy and hugely impressed, but tried to calm the general clamour for the Scot to be named a wildcard.
The Irishman said: "Stevie's performance will be strongly in his favour when it comes to making the picks, but there is a lot of emotion here at the moment and we have to put a bit of cold water on that.
"There are a lot of stats and a lot of players to be looked at. There is still golf going on in America which will be influential in terms of the picks as well."
McGinley said he would "sit down in the cold light of day" with vice-captains Sam Torrance and Des Smyth to discuss the picks.
"Stevie will look back with huge pride on what he has done today," he continued. "His performance will have an influence on the picks but at the same time there is more to it than just the emotion of Stevie's performance. I have got to do what is best for Europe.
"In one way it is great news and Stevie has been unlucky in this regard this has been the toughest European team to qualify for in terms of the points you have to amass.
"I will rely on Des and Sam, I am looking forward to hearing their opinions. The toughest part of my job so far is coming in the next 24 hours."
Gallacher believed he could do no more than take the qualifying race "to the last shot of the last round of the last tournament".
"It was a tall order but I am proud of myself the way I have played," said the 39-year-old from Linlithgow, aiming to ensure a playing presence for Scotland at Gleneagles.
"Eventually it comes down to someone else's opinion and there is nothing more I can do. I wanted to qualify myself just to take that away, but there are four or five guys that are worthy (of a wild card) so it's just what Paul sees.
"At the end of the day I haven't done enough. We all had the chance of the start of the year and there are nine guys in the team at the moment who have qualified. I gave it my best shot and I hope Paul likes what he sees."
If it was down to general acclaim then the Scot could be fitted for his team uniform now, with even the men who denied him in support of his claim.
"I said to my caddie on the 10th it's my job to break his Stevie's heart and he's a good mate," said Howell, who came through the amateur ranks with the Scot. "I really hope it's enough for him to get in the side. I think it would be a travesty, a local boy playing so well not to get in."
South African Otto, who claimed the title with a 20-under total after an incredible final round 68 despite scrambling around the course and struggling with a chronic hook with the longer clubs, said to Gallacher that he was "pulling for him" when they met before the start of play.
Even prospective Europe team-mates were egging on the Scot through twitter throughout the final day in Turin, Rory McIlroy among those giving their support, as did McDowell, who tweeted a picture of his newly born daughter adding "Watched the last few holes of the coverage. If Stevie G had passed me, I was keeping it all in perspective!! #blessed".
Of McGinley's other named wildcard candidates, Molinari had a modest day to finish well down the field in his home Open in a tie for 18th, while neither Poulter and Donald were making much impression on the lead in the Deustch Bank Championship in Boston.
Westwood didn't qualify for Boston, the second event of the PGA Tour's FedEx Cup playoffs, but rumours coming from the US have the veteran of eight Ryder Cups and six winning teams and Poulter as the favoured picks over Donald, even though the 36-year-old has never played on a losing European team in four editions.
Gallacher's candidacy for a wildcard could be assisted by the perceived need for McGinley to give a place for one of the European Tour's rank and file rather than pick as wildcards three players who play almost exclusively on the US Tour.
The Scot also has more top 10 finishes than any other player in the qualifying period, while the pull of some kind of home presence within the European team at Gleneagles while not a necessity is another advantage in his favour.