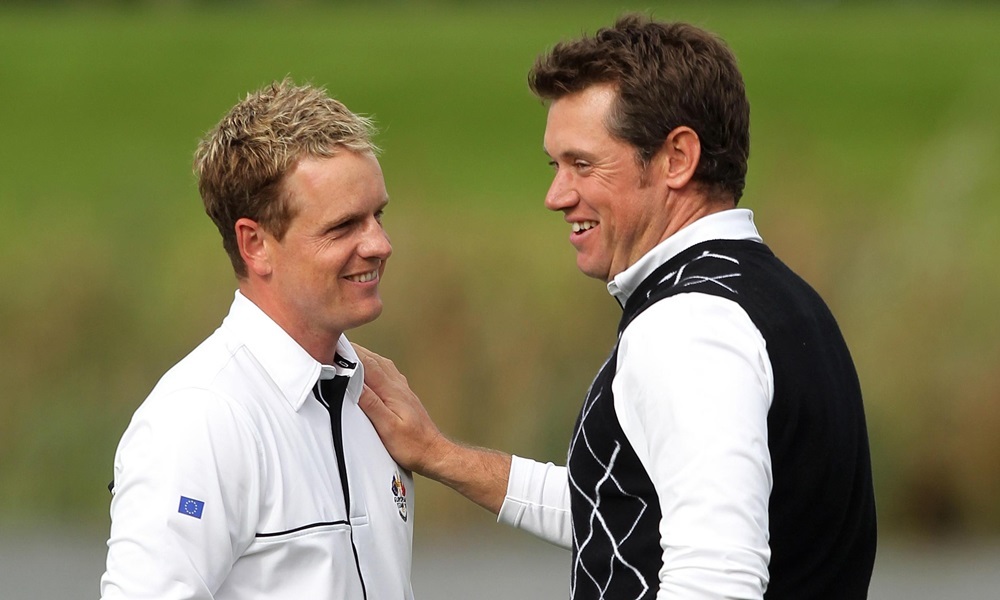 It sounded like a decent day out at the lavish Queenwood Golf Club in Surrey on Monday; three good European Tour men on the course, lunch, chewing the fat and then a nice dinner.
Only this was no social outing – the serious subject that Paul McGinley, Sam Torrance and Des Smyth were cogitating was the three Ryder Cup picks the European captain then announced at Wentworth.
In the end, McGinley and his mentors, also his senior vice-captains at Gleneagles, arrived at Stephen Gallacher, Ian Poulter and Lee Westwood as many had suspected they would.
"We were pretty much unified," McGinley said at Wentworth. It's not clear that anyone else was.
In the case of Scot Stephen Gallacher, however, there appeared to have been little debate in the end. The Scot's response to the captain's call to race for the finish line in the Open d'Italia last weekend, specifically the way he reacted on the back nine of Friday's second round, was the tipping point we all had hoped it would be.
That back nine of 30 to take Gallacher from nearly missing the cut in his last chance to eventually missing his target of second place by just a stroke told the Irishman all he needed to know about the 39-year-old from Linlithgow.
Significantly, Gallacher ended the qualifying process in tenth place, which as McGinley pointed out, would have been good enough for an automatic place at Medinah under Jose Maria Olazabal two years ago. It was only right that it turned out to be good enough for McGinley, who had added an third wildcard pick for insurance.
Ian Poulter's selection was clear long ago, if he was halfway fit and hitting it reasonably straight. In the end the real discussion seemed to be Lee Westwood or Luke Donald, and it's still not exactly clear why the two with equally excellent Ryder Cup pedigree and equally poor form of late were able to be separated.
McGinley pointed out Westwood's response to his public call to prove himself with a strong closing round at the WGC Bridgestone and then another at the PGA Championship. Two spikes on an otherwise flatlined graph of form, and followed by not much else, to the extent that the eight-times European team member didn't even qualify for the second week of the FedEx Cup playoffs.
Those two rounds were apparently good enough for Westwood to leapfrog three other players ahead of him in the qualifying list Francesco Molinari and Joost Luiten as well as Donald.
Donald had no such spikes on his graph of form, just his usual steady consistency. The fact that he is such a solid foursomes partner specifically for Sergio Garcia and his having one of the top three records in percentage of points won in Ryder Cup history counted for not as much as Westwood's two rounds in the 60s.
It probably won't matter much in the end although McGinley pointed out that in the only Ryder Cup that Luke Donald has missed since first selected, Europe lost because the overall strength of the team is so strong and Westwood is unlikely to be a passenger as, say, Jim Furyk and Steve Stricker were for the USA at Medinah.
For all the debate, and there is always healthy debate about the wildcards, it's a very strong European team that should be more than good enough to handle the USA at Gleneagles.