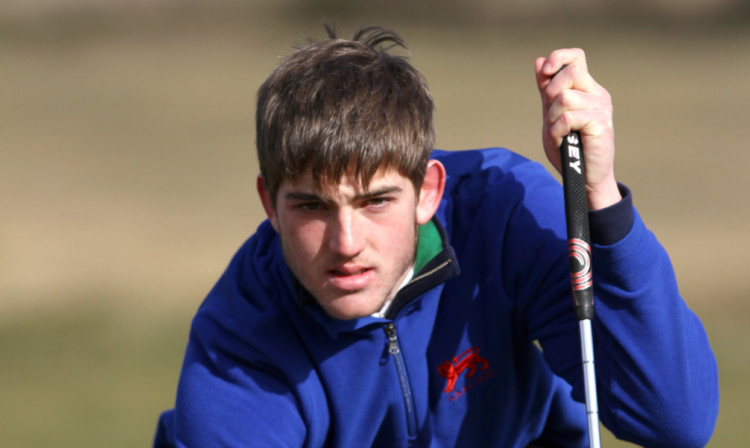 Two big wobbles by seeds on the opening day of the Scottish Boys Championship at West Kilbride showed that it's a wide open field for the blue riband junior title in 2014.
Top seed Ewen Ferguson and fellow internationalist Murray Naysmith were forced the distance in almost perfect conditions, although Fife's Niall McMullen made more comfortable progress in his bid to follow two of the region's last three Scottish Boys champions, Stewart Whiteford and James White, who both won their titles at West Kilbride.
Last year's Boys Championship at Monifieth was straightforward from the outset; top two seeds Ewan Scott and Bradley Neil looked the class of the 256-strong field, and so it proved.
Neither was unduly taxed through seven rounds until they met in the final, one of the best in memory and won by Neil 3 and 2.
However, the Blairgowrie player opted not to defend at West Kilbride to concentrate on men's circuit events while St Andrews' Scott is now at the University of Tennessee at Chattanooga.
Ferguson, winner of the British Boys at Hoylake last year, was considered the player most likely to dominate in their absence but he ran into bother almost immediately, forced down the last in his opening tie against Robert Hughan from Newton Stewart.
Hughan had eventually buckled when he duffed a chip to lose the 17th, and that was enough for Ferguson to close it out with a half on 18.
Dalmahoy's fifth-seeded Naysmith had an even more traumatic passage, three-down to Lochwinnoch's Fraser Lawrie before he won five holes in a row to turn things around, finally closing out his opponent with a half of the final green.
McMullen, the 17-year-old from Lundin the same club as White, who won here in 2006 was one of outgoing champion Neil's tips to do well and came through his match reasonably comfortably against Ogilvie Robertson of Kinross, 3 and 2.
McMullen, nephew of the Fife pro Garry Forrester, emerged last year as the Fife Boys order of merit winner and reaching the matchplay stages of the prestigious International Junior Masters event, the oldest junior golf tournament in the USA.
Fife's other big hope is St Andrews' Ben Kinsley, a quarter-finalist in 2011 and beaten semi-finalist to Scott last year, who opens his account this morning against Bathgate's Ross Callan, son of professional Stewart Callan.
The New Club's Matthew McAnaw progressed with a 4 and 3 win over Craig Orr (Cochrane Castle), but there were first round losses for club-mates Alasdair MacDougall and Keith Bowman. Elie's Conor MacCallum won through as did Dunfermline's Ryan Brown.
From Angus, Findlay Soutar (Montrose Mercantile) is through and could be top seed Ferguson's third round opponent if they progress on Wednesday, while Auchterarder's Alistair Wood defeated Tain's Shaun Hogg 4 and 2.