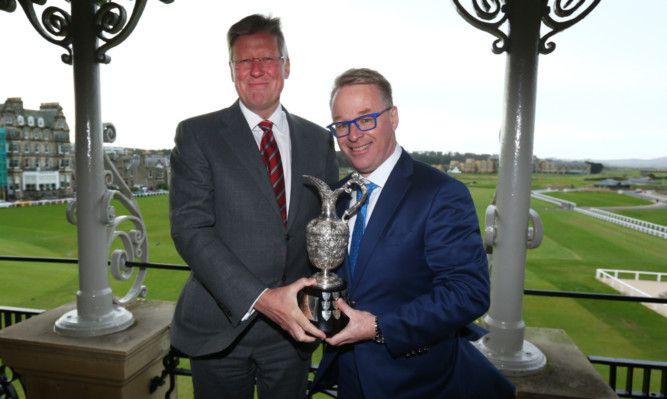 Tom Watson wouldn't change much about his Open Championship farewell on the Swilcan Bridge last summer, but the five-times champion is relishing returning to St Andrews in 2018.
Watson's belief that the Senior Open Championship "had a hole in its resume" in never being staged on the Old Course has been rectified with the announcement that the over-50s major championship will be hosted at the Home of Golf in two years' time.
European Tour chief executive Keith Pelley and R&A chief executive Martin Slumbers made the announcement in the big room of the R&A clubhouse in St Andrews yesterday, with Watson who has won eight Claret Jugs, five in the Open and three for the Senior Open listening in on a phone link 7000 miles and ten time zones away in Hawaii.
The 66-year-old had been a prime mover behind getting the Old Course to join Carnoustie where the championship will be staged this July Royal Birkdale and Royal Troon as Senior Open venues.
But he still wouldn't swap his evocative moment last Open walk up the 18th last July, when the golf clubs and pubs in St Andrews emptied in near darkness after long rain delays to cheer him up the fairway and over the Swilcan Bridge one last time most of it, anyway.
"Well, the only things I'd change are that there was a three-putt on that green, and a shank on that hole," he said. "I'm looking forward to playing the hole a little better in the Senior Open.
"The last hole last July put in my mind of Bobby Jones playing that round when he came back to play St Andrews after he'd retired, when he started out with virtually no-one watching but by the time he'd reached the 18th the whole town had turned out to see him.
"I would never put myself in Bobby Jones' shoes, but I kind of imagine the feeling must have been pretty much the same.
"I said to my son who was caddying for me on the 18th tee, `right, there's going to be no tears, only joy.' I really wanted to enjoy that final walk in the Open where I'd had so many successes and some failures too, and it's something I'll always remember."
Watson shows no signs of quitting playing "I've been lucky with injury and I keep myself in good shape" and he believes that chances of playing the Old Course in competition will be a huge attraction to his colleagues.
"I still play because I love the game and the thrill of competing," he said. "I'd often said to the European Tour and the R&A that the Senior Open should go to the Open Championship venues as they are where many of the players would love to test themselves again.
"I'd imagine that playing the Old Course will be a huge attraction to all the best players on the Champions Tour and senior players in general."
Sir Nick Faldo and Colin Montgomerie both sent messages of support to the announcement. Former Open champions such as John Daly, who won at St Andrews in 1995 and qualifies for the Seniors this year, are also expected to enter.
European Tour director Keith Pelley said it had been Watson's suggestion to take the Senior Open to St Andrews and the Tour were delighted it had been confirmed.
"We have a lot of thanks to give to our sponsor Rolex, to the R&A, the St Andrews Links Trust and Visit Scotland for making this possible, and it's going to be fantastic event," he said.
Pelley said that the European Senior Tour, of which the Senior Open is the central element "is not where we'd like it to be."
A survey of tour members had been undertaken and a new, more consistent schedule with shorter gaps between events was being proposed, he said. More events and better prize purses were also primary aims, he added.
"I think that the schedule you will see this Senior Open at the Old Course be a part of in 2018 will be very different to the one in 2016," he said.
The R&A's Martin Slumbers said that having hosted so many Open Championships and the Women's British Open twice, it completed the set for the Old Course to host the only senior major championship on this side of the Atlantic.
"There have been many great championships held at St Andrews over the years and it is entirely fitting that the Senior Open should be played at the Home of Golf in 2018," he said.
"We know that the galleries in St Andrews are passionate about golf and I'm sure they will turn out in strong numbers to see so many renowned senior players competing. It promises to be another wonderful event for golf fans in Scotland."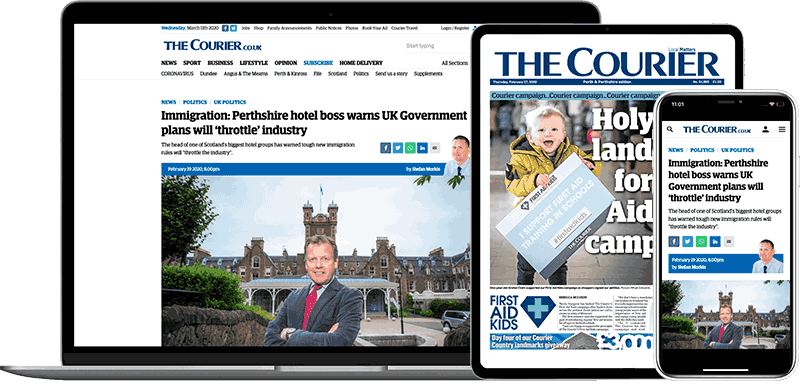 Help support quality local journalism … become a digital subscriber to The Courier
For as little as £5.99 a month you can access all of our content, including Premium articles.
Subscribe