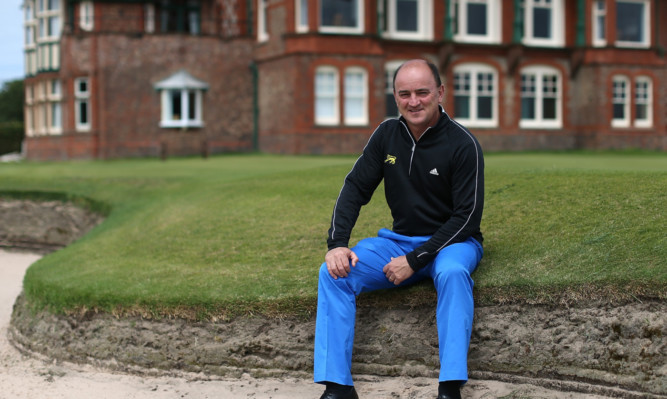 Nigel Edwards said Ewen Ferguson "fits like a glove" in the GB&I team despite the teenage Scot's late call-up into the team to take on the USA at Royal Lytham & St Annes this weekend.
A fair degree of mystery still surrounds why the originally selected Sam Horsfield bailed on the team. The US-based player will turn out for his college in the USA this weekend having told skipper Edwards that he couldn't play at Lytham, where GB&I are attempting to regain the cup and equal the record in these events to a level 7-all in the last 14 meetings.
The Welshman, a hero as a player in 2003 and a winning captain at Royal Aberdeen the last time the event was in the UK in 2011, didn't press Horsfield on his decision, but because he knew he had the perfect back up in Ferguson, the former British Boys champion.
"It's disappointing when you get a message saying that due to personal reasons, Sam couldn't play," he said. "But we've moved on from that.
"Ewen has come into the team and is playing fantastically well. He's won the British Boys', he's won twice in Scotland this year, and he's part of the Scottish team that won the European Team Championship and forged a great partnership with Grant Forrest there in Sweden.
"My sole focus now is the GB&I Team and making sure that Ewen is comfortable, and he is. He's certainly one of the characters on the team and fitting in like a glove."
Edwards took up the offer of Ryder Cup skipper Paul McGinley to come and speak to the team earlier this week, McGinley being a former Walker Cup cap himself form 1991.
"Myself and Paul were both down at Quinta do Lago at the beginning of the year," he explained. "We just had a general chat. And he said, "Look, anything that you want me to do to help, then I'll be more than delighted to do it."
"So we discussed various things throughout the summer, and came up with him coming here if it fit in with his schedule.
"Some of the stuff that he did at The Ryder Cup was very similar to what we've been doing in a Walker Cup environment for – probably since about 1999. Paul just shared some of the keys that made the European Ryder Cup Team successful.
"He was very good, very enlightening, taking about embracing the moment, enjoying it, getting the most out of themselves and the players being themselves, not anyone else.
"They don't need to do anything different this week other than enjoy the moment. We have all seen, when people enjoy it, they do better."
Although only Dubliner Gavin Moynihan has played in a Walker Cup before and Edward's oldest player, Ashley Chesters, is still half the age of the USA's oldest, the captain believes he has lots of experience.
"A lot of our guys have been around a long time, played for their national teams for many years, some like Grant Forrest have played for GB&I right up through the ranks," he pointed out.
Forrest and Jack McDonald are the other two Scots in the side but one of the record five Irishman, Cormac Sharvin, has plenty of connections north of the border, having been on the golf programme at the University of Stirling.
"I don't think I would be here if I hadn't gone to Stirling, no," he sai.d "I think the biggest thing for me was being around good players. When I got to Stirling, I could play a little, but I didn't really think that I was able to compete with the top players.
"Obviously when I got there, Jack McDonald, who is obviously playing this week, had just lost in the semi-final of the British Amateur.
"So I was obviously practising with Jack and a few other guys and thought, I can compete with these guys. So that sort of geed me on a little bit to push to the next level I suppose."
The 22-year-old was maybe the most consistent player on the European circuit and was showing off his power at the final hole in practice yesterday, driving the famous green in front of Lytham's red-bricked clubhouse.
"I got a lucky one," he joked. "Rolled on to about 20 feet. The yardage was 410 or something"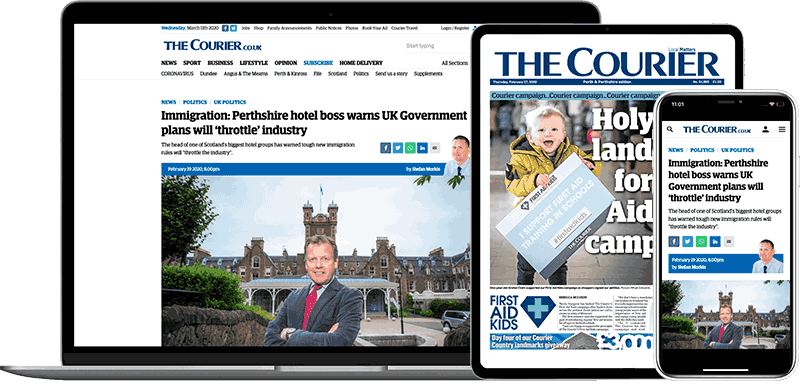 Help support quality local journalism … become a digital subscriber to The Courier
For as little as £5.99 a month you can access all of our content, including Premium articles.
Subscribe