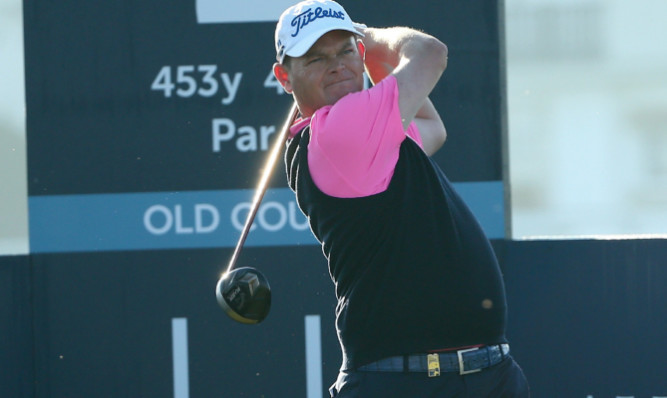 The Alfred Dunhill Links Championship is renowned for producing stories of golfing redemption.
Tour cards get earned and saved thanks to one of the biggest prize pots of the season.
There are two young rookies sharing the lead after the first round – Paul Dunne and Jimmy Mullen – and should one of them win on Sunday, the Dunhill's transformational powers will be taken to new heights.
But that would also be the case if David Drysdale emerges victorious.
The Scot was in a wheelchair less than two weeks ago and still on crutches last Friday after tearing a calf muscle getting out of a bunker in the Italian Open.
Former Scottish rugby physiotherapist Stuart Barton's healing hands and a few dips in the North Sea have got Drysdale back on a golf course and high up the leaderboard at the end of day one of the Dunhill.
"It's been incredible," said the 40-year-old, who posted a four under par 68 on the Old Course to trail Mullen, Dunne and Kristoffer Broberg by four.
"I was still on crutches last Friday. I hadn't hit a ball until Tuesday afternoon when I played nine holes at Kingsbarns.
"It's amazing what Suart has done.
"I got the injury on the Saturday of the Italian Open and I saw him on the Sunday. There was a three centimetre tear and a 15 centimetre swelling. He strapped it up really tight and all the bruising came out and the swelling started to go down.
"I've been seeing him every day since. He's got a place in Edinburgh, Anstruther and Lundin Links. I've been all over the place, sometimes seeing him at half six in the morning, sometimes at half six at night.
"He said that if I was an athlete which I'm clearly not it would be six to eight weeks out."
Drysdale added: "I've spent a lot of time in the sea every day at Pease Bay (East Lothian) just walking about like a right idiot with a jacket, woolly hat and a pair of shorts on.
"I thought he was joking when he told me to go in the sea. There were kids on surfing courses and they must have thought I was a bit weird walking up and down. But I think I might continue doing it. It's not actually that bad.
"The resistance and cold has done it the world of good.
"On Monday night I was doing step ups on to a table about three-and-a-half feet high. That's how I got the injury stepping out of a bunker and the bunker face went underneath me.
"He told me I wouldn't do anymore damage to it once I could do the step ups, and I just had to trust it. The first few balls were a bit scary but after that things were fine. I've got it strapped up with tape and a tight bandage so I can't feel it."
Drysdale described the pain of the tear as "horrific" and joked that the only fringe benefit was getting straight through passport control at Heathrow and Milan in his wheelchair.
The implications for his career were no laughing matter, however.
"The timing was awful," he explained. "I was 114 on the money list and by the looks of it 111 will keep my card.
"I was looking like going into the top 111 if I'd finished that weekend in Italy. Germany (the European Open) looked right up my street, which was a shame as well.
"It's been a fight to get fit for this week and it will be a fight to keep my card. One good week will do it. We'll see what happens this week.
"I lost my way from March through to end of June. There must have been about a dozen weeks when I basically had no idea. But the last two or three months has been back on the right track."
It was a stunning start to professional golf for Walker Cup duo Mullen and Dunne.
Making their tour debuts Mullen and Dunne started off the tournament at Kingsbarns with 64s, with only Broberg at St Andrews matching them.
Mullen said: "It's great. I didn't quite expect to shoot eight under on my first time out.
"I've only played one round, so I wouldn't say it was easy. I know I've got a lot of learning to do.
"What I did as an amateur worked, so I didn't see any need to change it. I've stuck to my game plan and routine and I'll try to do that for the next (hopefully) three days. It's a long way from winning the tournament, but hopefully I'll be there at the end of the week."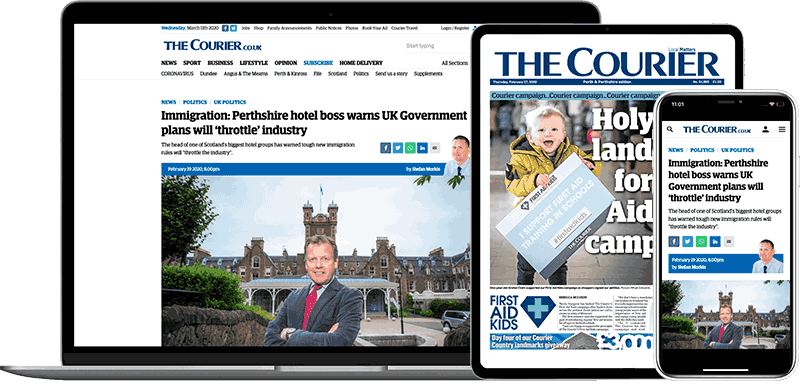 Help support quality local journalism … become a digital subscriber to The Courier
For as little as £5.99 a month you can access all of our content, including Premium articles.
Subscribe