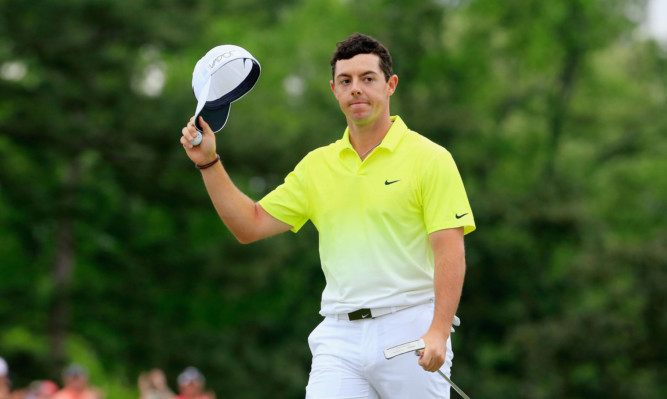 Rory McIlroy predicted he will face numerous battles with Jordan Spieth for golf's greatest prizes after the American's record-breaking Masters victory on Sunday.
Having already set new 36 and 54-hole scoring records, Spieth also equalled the 72-hole record of 18-under set by Tiger Woods in 1997 after a bogey on the 18th, finishing four shots clear of Justin Rose and Phil Mickelson.
Spieth's total of 28 birdies beat the previous best of 25 set by Mickelson in 2001, his last of the week on the 15th also making him the first player ever to reach 19 under par in the Masters.
The 21-year-old is also the second youngest champion ever behind Woods and moves up to second in the world behind McIlroy after a run of results which reads first, second, second, first.
"I played well," McIlroy said after shooting 31 on the back nine on Friday and 68 and 66 on the weekend to finish fourth on 12 under. "Obviously very happy with how the weekend went, and even the last nine holes of Friday, which I needed to just get in for the weekend.
"I am obviously going to take a lot of positives from it. If someone had told me I'd finish 12-under at the start of the week, I would have taken it and sat back and seen where I finished.
"But a few guys have just played a bit better than that. Jordan obviously started off fantastically well and has just kept his foot down. It's awfully impressive. I've been fortunate enough to be in a similar position, winning my first major, and having a nice comfortable walk up the 18th.
"It's nice to get your major tally up and running at quite an early stage of your career and it's great to see, great for the game. And I'm sure he'll win many more."
McIlroy insisted the pressure of trying to complete the career grand slam had not affected his performance, adding: "No, not at all. I prepared really, really well for this tournament.
"I came in feeling good and I felt like I played okay on Thursday. I got it in in red numbers. Just the start on Friday (a front nine of 40) was really what killed me. But as you've seen over the last 45 holes, I'm playing very nicely. It's just a matter of putting it all together."