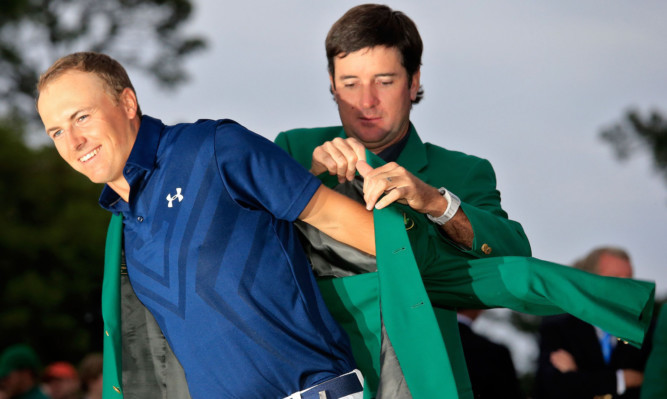 Jordan Spieth admitted he would probably sleep in the green jacket after claiming his first major title in record-breaking fashion in the 79th Masters.
Spieth became the first player ever to reach 19 under par at Augusta and only a bogey on the 18th prevented him from adding the 72-hole scoring record to the 36 and 54-hole records he set on Friday and Saturday.
The 21-year-old also became the second youngest champion behind Tiger Woods – whose 18-under total he equalled – after a closing 70 left him four shots ahead of Justin Rose and Phil Mickelson.
"I plan on not taking it off for a while," Spieth said after being presented with the green jacket by 2014 winner Bubba Watson. "I'll probably sleep in it for a few nights.
"It's the most incredible week of my life. This is as great as it gets in our sport. It's a dream come true for me. I did not break 70 last year even having a chance to win so to shoot some low scores and hear those roars is very special.
"To join the club that is the green jackets and to join Masters history and put my name on that trophy and to have this jacket forever, it's something that I can't fathom right now.
"I saw my friends and family behind the green and knew it was a done deal. It did not kick in there and it still has not kicked in. I am still in shock a little bit. It was cool to share that experience with them because they have not been there the couple of times I have won."
Rose got within three shots of Spieth three times on the front nine, but was left to rue mistakes on the eighth and ninth and a bogey on the 18th which cost him outright second.
"It was a great start for Jordan and myself with two birdies in the first three holes but the key moment for me was not getting up and down from right of the eighth and three-putting the ninth," the former US Open champion said.
Rose has led after the first round at Augusta three times and also finished fifth in 2007, and asked what he needed to do to win, added: "Just shoot 14 under again. Normally that gets it done. Only thing I had not done was put four good rounds together and I did that so let's continue that trend."
Spieth had finished first, second and second in his previous three events and Rose added: "Phenomenal, what a month of golf he's had. Awesome composure; every time I thought there was a chink in the armour he would come out and hole an eight foot putt."
World number one Rory McIlroy, who needed to win to complete the career grand slam, finished fourth after a closing 66.
"If someone had told me I would finish 12 under at the start of the week I would have taken it and sat back and seen where I finished," McIlroy admitted. "Jordan started fantastically well and has kept his foot down and been really impressive.
"I played well and am very happy with how the weekend went and the last nine holes on Friday when I needed to make the cut. I am going to take a lot of positives."