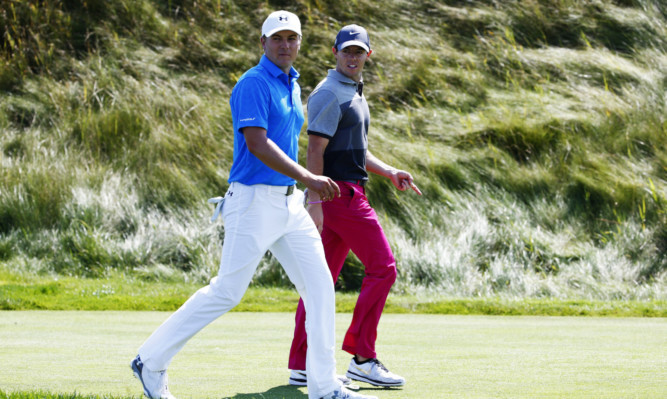 Happy New Year everyone. Hopefully the trek back to work was not too galling, but from what I gather large numbers of you are still, scandalously, yet to go back to work or college or school.
In golf, of course, we're troopers. Jordan Spieth was in Hawaii as early as New Year's Day prepping for this week's PGA Tour opener. It really is a hard old life, and the $23 million Jordan recouped from his various travails last year is barely enough to compensate.
2016 should be a cracker, but one of the pitfalls of this, T2G's annual "Stab In The Dark" prediction column, is that there are some things you simply can't foresee.
Like Rory McIlroy taking a whack on his ankle in a fives game, or Jordan Spieth and then Jason Day winning everything, or Dustin Johnson doing something brainless to lose a major…sorry, of course everyone can predict that.
This is why the 2015 prediction column was less than prescient.
My perennial Tiger Woods Does Not Win A Major prediction came up again, but it's being discontinued this year for being too easy a target.
Darren Clarke being named Europe's Ryder Cup captain…yeah, even I'm not barefaced enough to claim any foresight for that one. Two Scots winning tour events was a third success, but only saved at the death by Russell Knox.
Anyway, here goes with 2016…
TIGER DOES NOT COME BACK, BUT NEITHER DOES HE RETIRE
This outwardly confusing prediction is based on the recent missives eminating from Tiger Towers, which are at turns deeply pessimistic suggesting a abrupt termination of his career is imminent and then, less than a week later, predicting further major titles are but a few months away.
I certainly think he'll bid to return, but past precedent shows he'll try too quickly and just hurt himself again. At the end of this year, I reckon, he'll be saying "it's close", leaking stories of rounds of 64 at the Medallist no-one but his closest confidants have witnessed, and promising to come out all guns blazing in 2017.
Only this time, no-one will believe him.
THERE IS NO CONSENSUS WORLD NO 1 IN 2016
Jordan Spieth is currently No 1, and I think he's indisputably so, but you'll get plenty argument to the contrary.
I see Rory McIlroy coming back in a big way, and I really like his chances at Oakmont, Troon and Baltusrol in three of the majors. But you have to bet the house on Spieth at the Masters, and his relentless consistency shows no sign of weakening at all.
Jason Day, now he is over the hump of actually winning rather than perenially contending, is going to be around and there's a host of great players who can go on a hot streak and move up into this exalted company of the new "Big Three".
It's the difference between now and Tiger's era of dominance. The competition is so much better now; rather than one exceptional guy out on his own, there's potentially five or six who can play at that level, although I think Spieth's the only one really capable of matching Woods' uncanny ability to contend every single week.
THE RYDER CUP IS WON BY THE USA. BUT ONLY JUST
Medinah was a one-off, and even those of us who were there forget how close it was. It only needed something small for the US to win that weekend.
So even after the rout that followed at Gleneagles, it's not hard to imagine a younger and stronger US team winning at Hazeltine. But Golf Digest are claiming that "it won't even be close"?
Europe will be better too, and they have hardened veterans with the habit of winning. And immediate past captain Paul McGinley is right; the US have made such an elaborate song and dance about their overhaul of their team system that all the pressure is on them.
And the past illustrates they're not entirely comfortable with that.
THE ENVIRONMENT IS GOLF'S NEW TOUCHSTONE.
At the R&A's slow play convention in November the USGA representatives seemed to care more about this than the issue under discussion. Lack of water is dictating the path of golf in the US.
Here. it could be the exact opposite. This sodden, waterlogged winter is going to have serious implications for golf courses across the country.
Even rain-guzzling links are at risk. Scottish Golf Podcast had an interesting report just before Christmas on the Trump International Links, where the third green is effectively being rebuilt just three years after opening, and the dune movement has been far more considerable than envisaged.
THE GOVERNING BODIES WILL TINKER AGAIN, BUT IGNORE THE MAIN ISSUE
The R&A's slow play memo will come out this year, and it'll be wide ranging although I'm not holding my breath until I see sharp teeth. In the meantime, the anchored putter has already gone.
Yet the over-teched ball will continue to fly ludicrous distances unfettered.
And it will not be addressed, because the R&A and the USGA are hostages in this situation to the Tours and the manufacturers, who have no interest whatsoever in any change.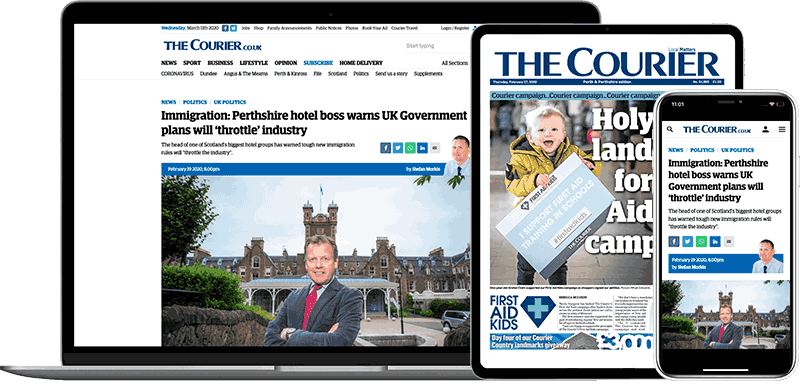 Help support quality local journalism … become a digital subscriber to The Courier
For as little as £5.99 a month you can access all of our content, including Premium articles.
Subscribe