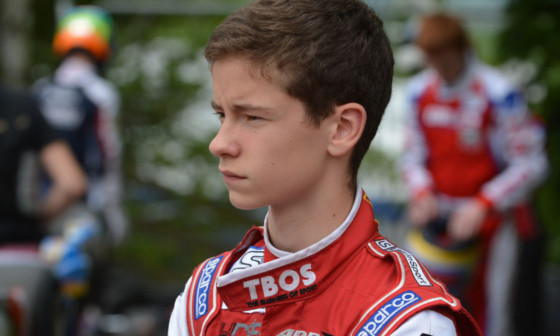 British junior karting champion Sandy Mitchell has sealed a history-making step up to single-seater racing for 2015.
The teenage Angus sensation has been unveiled as the Arden Junior Racing Team's first signing for the new MSA Formula championship, a programme hailed as the most exciting development in British junior single-seater motor racing for almost 50 years.
The arrival of the FIA F4 concept will allow 15-year-olds to compete in single-seaters in the UK for the first time.
Scottish Motor Racing Club Rising Star Sandy is poised to be the youngest British driver on the packed grid when he lines up for the April series opener at Brands Hatch in Kent, just a couple of weeks after his 15th birthday.
Sandy, from Letham, near Forfar is the youngest driver signed by Arden to date and the only Scottish driver to be selected by the Arden-backed Young Racing Driver Academy (www.yrda.co.uk).
Arden International is a multiple formula racing team created in 1997 by Garry Horner and Christian Horner, Red Bull Racing's F1 team principal.
The outfit currently run teams in the GP2 Series, GP3 Series and World Series by Renault (FR3.5) and from 2015 has secured an entry to the new MSA Formula Junior Series.
The MSA Formula series will run alongside the British Touring Car Championship at venues including Knockhill in Fife and a thrilled Sandy said he was delighted to be taking the exciting step in his motorsport career.
"Driving with Arden in this amazing new MSA Formula Championship will really be something special," the Dundee High School teenager told Courier Sport.
"The new MSA Formula car looks fantastic and I am now fully focused on the transition from karting to single-seaters."
The striking MSA Formula car is built around a carbon monocoque and powered by a 1.6litre 160PS Ford EcoBoost engine, with a six-speed sequential paddle-shift gearbox.
An outstanding 2014 season saw the Angus teenager add his name to a pantheon of former British Super One Series karting champions including Lewis Hamilton, Jenson Button, David Coulthard and Paul Di Resta.
Arden team principal Garry Horner said: "We are very pleased to have Sandy as our first signing for the 2015 season.
"We have an established relationship with the Mitchell family since last year when Sandy joined the Young Racing Driver Academy.
"He is the first driver from the Academy to progress into a single seater championship, demonstrating the importance of the program."