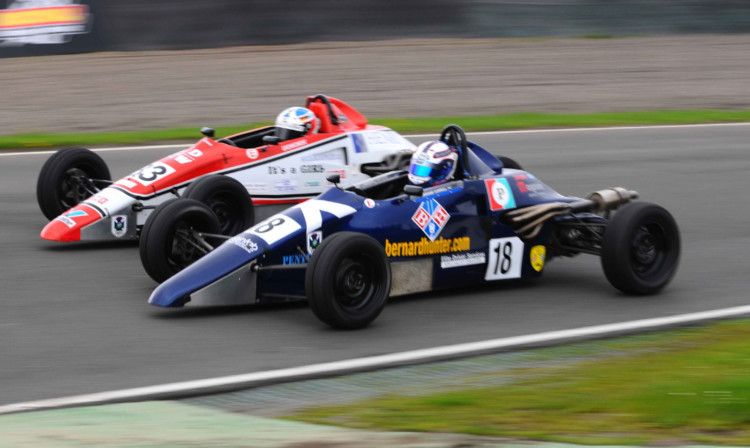 The Scottish Motor Racing Championships head back to Knockhill for round three of the Scottish Championship season.
Even at this early stage in the season, it's becoming clear who the leading contenders will be in each class.
Upwards of 120 drivers will take to the track this weekend to compete in seven different championship classes, featuring action from Formula Ford, Legends, Mini, Classic, Sports and Saloon, Fiesta and BMW Championships.
A staggering 27 BMWs will line up, making up by far the biggest grid this weekend.
The BMW Compact Cup returns to Knockhill after an 'away' round at the challenging Oulton Park circuit in Cheshire.
At the event, St Andrews racer Alan Kirkaldy showed fellow competitors a clean pair of heels by claiming two dominant race wins.
Kirkaldy, the reigning BMW champion, has not been as dominant at Knockhill this year as he had been last year, where he sold his car with one round remaining after claiming the 2013 title with races to spare.
This year though, Wallyford's Steven Dailly has already edged out Kirkaldy in several races this year and that battle looks likely to resume this weekend.
Another driver heading back to Knockhill after 'away' day success is teenager Ciaran Haggerty.
The Formula Ford 1600 racer also enjoyed success at the Cheshire circuit after claiming pole position, fastest lap and a new lap record on his way to victory.
Haggerty's season sparked to life at the last round at Knockhill, following a visit from one of his keen supporters, four-time IndyCar champion Dario Franchitti.
Kenny Thirlwall (Haddington) will be hopeful of maintaining his lead in the Celtic Speed Mini Cooper Cup standings, ahead of Joe Tanner (Dunfermline) and Oliver Mortimer (Edinburgh).
In the Scottish Legends Championship, it's still all to play for with upwards of eight racers all vying for wins.
In the Peoples Ford Fiesta Championships, Wayne Macaulay (Forfar, ST) and Steven Gray (Aberdeen, XR2) have comfortable leads heading into this weekend's double header.
The 16-race programme will start at 10.40am.
The event will also see newcomers enter the fold, with Danny Leigh (Banchory) and Brogan Kinsella (Turriff) making their BMW Compact Cup debuts.