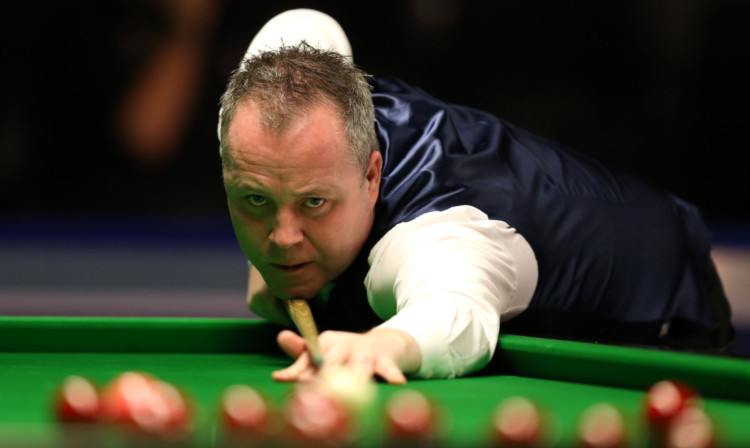 Perth snooker star Scott Donaldson's excellent run at the William.hill.com UK Championship came to an end when he lost 6-3 to England's Joe Perry at the last 32 stage at the Barbican in York.
In a high quality contest, Donaldson won the opening frame with a break of 64 before Perry won the next frame to level at 1-1.
The next two frames were shared before Perry edged in front with runs of 66 and 67 to lead 4-2. Donaldson fought back to win the seventh frame with a break of 90 but Perry won the next on the black before wrapping up the match with a break of 59 for a 6-3 victory.
Fellow Scot John Higgins recovered from 4-3 down to defeat compatriot Jamie Burnett 6-4. He will now meet the winner of the match between another Scot, Stephen Maguire, and China's Liang Wenbo.
Afterwards, four-time world champion Higgins launched a blistering attack on Joe Johnson and other players turned commentators.
Higgins has struggled for form this season and, going into his bid for a fourth UK title, changed his cue for the second time this season. That prompted an accusation from 1986 world champion Johnson that the Scot was "searching for something that is not there" and "looking for someone or something to blame".
Higgins was angered by the criticism and put his indifferent display yesterday his only significant break was a 92 in frame nine down to a difficult table.
"The table's so tight," he said. "That's twice I've played on that table and it's so tight.
"The old players would never have made 10 or 20. They're probably sitting there watching and giving you dog's abuse and they'll be saying it on camera. But when you see the buckets they used to play in the 80s, these guys couldn't make 30 or 40.
"We're struggling big time. There are still record breaks and everything but I can just imagine what some of the older players are saying.
"I heard before the tournament Joe Johnson was slating me. If that guy isn't the worst commentator in the world, he's in the top three. How he ever got to be world champion, and he can say some of the shots that he does say…
"That game wasn't even on TV, thank God, but I can just imagine what they're all saying."
Meanwhile, Barry Hawkins and Stuart Bingham reached the third round with hard-fought but ultimately comfortable wins on Monday. Bingham opened up a 2-0 lead over Anthony McGill with breaks of 90 and 76 and though McGill pulled one back, Bingham made 54 in the fourth and took it after a tussle on the green. A 74 in the fifth frame and 99 in the eighth helped him wrap up a 6-2 win.
Hawkins ended the dream run of Newcastle's Gary Wilson, who will return to his day job as a taxi driver until at least late January.
Wilson won an opening frame in which both players had chances but Hawkins levelled and breaks of 80 and 52 put him in control by the interval. He returned with 88 and 77 but Wilson pegged him back with three successive half-centuries before Hawkins eventually pulled through.
Amateur Mitchell Travis followed up his opening upset of world number six Marco Fu with a 6-4 win over Norway's Kurt Maflin.
Maflin came from 2-0 down with breaks of 93 and 77 and the pattern was repeated after the interval, Travis pulling two clear and Maflin levelling despite a failed 147 attempt. Travis won the next two, however, to book his place in the last 32.