Scottish Labour leader Jim Murphy has insisted it is "time to call a halt on food poverty" as figures showed more than 60 children a day are forced to rely on food banks for meals.
Mr Murphy said his party would end the need for food banks with the introduction of a £175 million anti-poverty fund in Scotland.
He said Labour proposals to scrap the welfare reform that has been branded the "bedroom tax" would allow the £35 million a year the Scottish Government spends mitigating this to go into the new fund.
The money would then be used to extend crisis grants, help provide money advice and other services at food banks, and support and promote credit unions.
Mr Murphy said the proposals showed that, north of the border, Labour is "'the only party of social justice".
Figures show that in 2013/14, 22,387 children used food banks in Scotland, equating to at least 61 youngsters a day, the party said.
More than 3,000 Scots children had to use food banks in December last year alone.
Scottish Labour said low income, benefit delays and welfare reforms were the main reasons people are forced to ask for food handouts.
As well as pledging to scrap the "hated bedroom tax" if it wins the election, Labour would also ban "exploitative" zero-hour contracts, raise the minimum wage and freeze energy bills
Mr Murphy made the comments as he visited a community cafe in Edinburgh, where he prepared a "kettle box" food pack, which is given to those with no proper cooking facilities.
He said: "It is a scandal that thousands of Scots are forced to exist on food handouts, and worse that for too many the only hot meal they can afford is a Pot-Noodle or Cup-a-Soup.
"The number of Scottish families forced to depend on food handouts has rocketed in the last three years.
"It's a disgrace that in a country as rich as ours so many people have to rely on being fed by charity. It's time to call a halt to food poverty in Scotland.
"For many other people, they are just a broken fridge or boiler away from being in serious financial trouble.
"After five years of the Tories, even having a job doesn't guarantee freedom from poverty."
He pledged: "Labour will abolish the Tories' bedroom tax and we will use the savings to establish a £175 million Scottish Anti-Poverty Fund.
"We will drive up living standards by banning exploitative zero hours contracts, raise the minimum wage and extend the living wage.
"We have a vision for Scotland: A country where people in crisis are supported, not forced to queue for handouts. A country where young people, no matter their background, get every opportunity to succeed. A country where working families prosper.
"We will build the fairest nation on earth. That will start with a UK Labour government in May."
But he stressed: "A UK Labour government doesn't happen by proxy – you need to vote for it.
"A vote for any other party makes it easier for the Tories to hang on and means five more years of austerity that would be a dreadful for Scotland."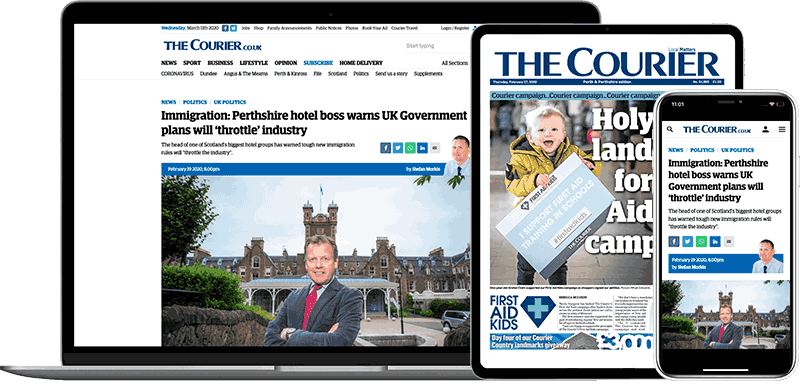 Help support quality local journalism … become a digital subscriber to The Courier
For as little as £5.99 a month you can access all of our content, including Premium articles.
Subscribe