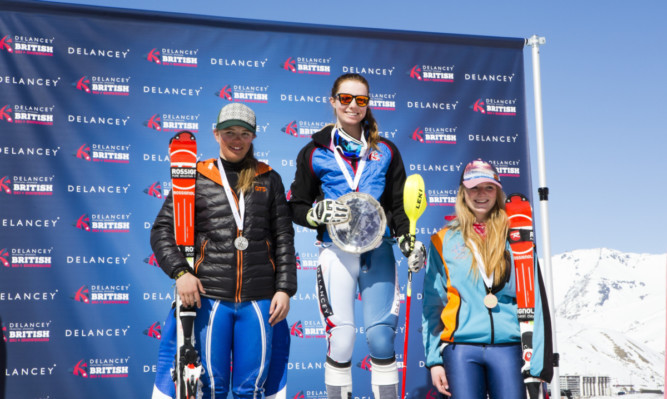 Perth skier Kirsty Guest admits she surprised even herself at the Delancey British National Alpine Ski Championships after picking up a bronze medal at the weekend.
The women's junior and U18 slalom race was contested in Tignes, France, and Kirsty produced a combined time of 1:31.35 minutes to finish third in the junior rankings behind Ella Still and Nicole Ritchie.
The 18-year-old ran Ritchie in particular incredibly close for silver but ultimately trailed the Glaswegian by 0.1 seconds at the conclusion of the race.
But Kirsty, whose older sister Charlie won the women's senior slalom gold on Thursday, was ecstatic to earn a medal of any colour.
"I completely forgot it was a junior race so I'm surprised to win bronze! I thought I skied well I definitely fought to stay in because it was a little bit bumpy in places," said Kirsty.
"I still attacked though, so I'm happy with that. I think I skied better in the first run but my time was better on the second run, so I guess I just made less mistakes.
"I'm definitely very pleased to win a junior bronze medal because I didn't come here expecting that at all."
The Delancey British National Alpine Ski Championships run until April 1 and is the biggest event of the year for the British ski racing world with Delancey as the principal sponsor for the sixth year running.
Kirsty has struggled to consistently produce her best skiing in recent times, making a bronze medal at the British Championships all the sweeter.
And with the junior and U18 giant slalom race to come on Sunday, she is now targeting another strong performance although the discipline is not one of her favourites.
"I just wanted to come into these Championships and ski my best," added Kirsty.
"I didn't have a very good season last year and this season it has come together at the very end, so I'm happy to put down some solid runs.
"I'm in the GS on Sunday but that is probably my worst discipline of the ones that I train the most. I'd just like to put down a solid run and hopefully score some points."
Meanwhile the older Guest is adamant she has plenty of room for improvement despite winning gold.
Charlie completed her two runs in the women's slalom in a combined time of 1:34.10 minutes to win the national title ahead of Nicole Ritchie and Ella Still.
There looked set to be a fascinating tussle for gold between the 22-year-old and World Cup regular Alex Tilley, only for the latter to crash out during her first run.
And while the potentially classic battle may have failed to materialise, Charlie was elated to climb the top step of the podium.
"It's a really cool feeling to win the national title. It has been a really long day for us all so to actually come out with the win is really nice," she said.
The gold was particularly pleasing after a campaign blighted by a serious back injury but she is hopeful the worst is now in the past.
"The season has been slightly turbulent for me. I was diagnosed with a herniated disc back in October and so those last three months of the year I was off skis and having to rehab."