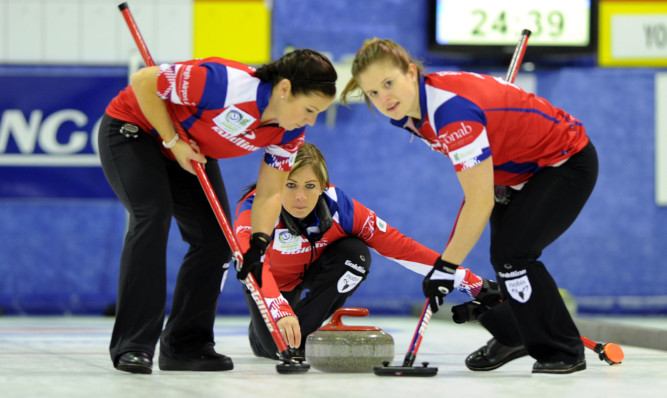 Perthshire curler Eve Muirhead led her team to Go Coco Scottish Curling Championship success on Saturday, played in front of sold-out crowds at Perth's Dewar's Rinks.
Muirhead and her team third player Anna Sloan, second Vicky Adams and lead Sarah Reid now go on to wear the blue of Scotland at next month's Ford World Women's Curling Championship in Swift Current, Canada.
They defeated Stirling's Lauren Gray 8-4 in the final to cap a week-long undefeated campaign by the defending champions.
Muirhead said: "We played really well during this championships and we came out strong in the first end of the final and managed to get the two on the scoreboard.
"However, the crucial part of the game is those last five ends. We need to finish games off and that's exactly what we did."
Speaking about her World Championship appearance, she added, "Olympic qualification points will be at stake as well as world medals at this event, so we can't wait to go out there."
Muirhead and the girls opened the final strongly, scoring two points in the first end to establish an early advantage.
But Gray then responded in the fourth end with a score of three points to take a 4-3 lead and hint at an upset win.
However, Muirhead levelled with a single point in the fifth end and then had steals in both the sixth and eighth ends for an 8-4 lead.
After failing to score in the ninth end Gray conceded defeat, handing Muirhead her fifth national title.
Aberdeen's Tom Brewster won the men's title his fourth success in this championship.
He and his team of third Glen Muirhead, second player Ross Paterson and lead Hammy McMillan faced Lockerbie's David Murdoch in the final, having lost just one round-robin game early in the week 6-7 to Scottish junior champion Bruce Mouat.
The final turned on a crucial fifth end, when Brewster scored three points for a 4-1 lead.
His team contained Murdoch's attempts for the rest of the game, and eventually Brewster had a simple takeout in the 10th end to win 5-4.
Brewster goes on to represent Scotland at the World Men's Curling Championships in Basel in April.
"When the three came along it was great and we were really solid after that," he said.
"We don't need to do anything different for the worlds just prepare harder than we did for this week.