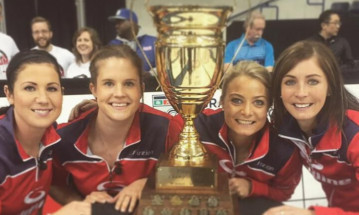 Scotland's Team Muirhead have left Canada with their second Grand Slam of Curling Players' Championship title, and nearly $60,000 for their week's work.
The Perthshire Olympic medallist and her Stirling-based rink stole points in the final two ends to clinch a 4-2 victory over Anna Sidorova of Russia in the Toronto final.
Muirhead, third Anna Sloan, second Vicki Adams and lead Sarah Reid who won the inaugural women's Canadian Open in December also claimed the 2014-15 Rogers Grand Slam Cup as the overall women's points leader.
Muirhead said: "It's a great feeling. We love playing these Grand Slam events they're massive. To win the overall bonus makes it even better.
"It's been a tough week. All of these games have been so hard, but we really pulled together well as a team. To come out on top, we couldn't have asked for more."
Sloan added: "It's fantastic. We've had a tough season of inconsistencies but this week we just really dug in. I think it just showed that we are a strong side, and we played really well there.
"It feels just as good the second time around if not better. I think the first year (2013), we were playing well, we were playing consistently and everything was going our way. This season has been tough. The results haven't been going our way."
As Rogers Grand Slam Cup champions, Team Muirhead collected an extra $35,000 bonus bringing their total at the event to $58,500.
In the semi-final they beat Canada's Rachel Homan 8-7.
The Players' Championship is the fifth and final event of the Grand Slam season.