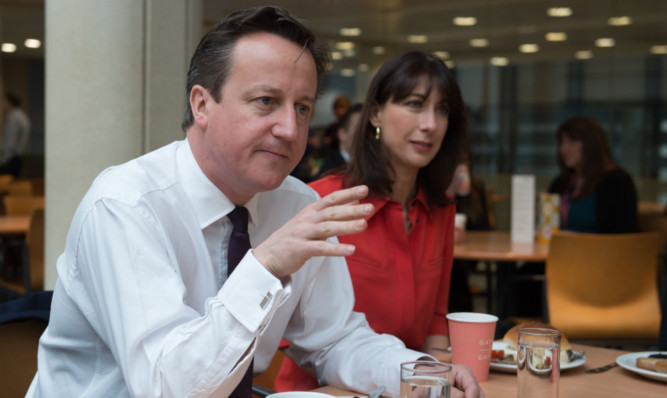 David Cameron said Nicola Sturgeon is "wrong on the two big questions of our time" as he warned against an alliance between Labour and the SNP.
The Prime Minister attacked Ms Sturgeon over her desire for Scottish independence and borrowing plans on a campaign visit to Edinburgh during a whirlwind tour of all four nations of the UK in a day.
Mr Cameron said an Ed Miliband Labour government, potentially propped up by the SNP, would result in more "taxes, spending, debt and unlimited welfare".
He said: "This is the most important election in a generation.
"Clearly, the election here in Scotland is also crucial and we've got a very clear message, which is if you want a non-socialist alternative to the SNP there is only one choice and that's the Conservatives led by Ruth Davidson."
The Prime Minister added: "Nicola Sturgeon wants two things. She wants to break up the United Kingdom, I'm totally opposed to that, and she wants more borrowing, more spending, more taxes, more debt, more unlimited welfare, and I totally oppose that.
"I think she's wrong on the two big questions of our time, so that's why we're fighting such a vigorous campaign here, but we're also warning across the United Kingdom over the danger of this alliance potentially between the people who want to bankrupt Britain, Labour, and the people who want to break up Britain, the SNP, and pointing out the only way to avoid that is a Conservative majority government.
"I think, frankly, Ed Miliband should be clearer about what he would do with respect of the SNP, rather than at the moment he's failing to speak out because he's quite happy to ride into Downing Street on their coat-tails."
SNP deputy leader Stewart Hosie said: "David Cameron cannot have it bothways.
"In the referendum he said that Scotland was an equal and valued partner in the UK and that our voice must be heard at Westminster, but if the people of Scotland choose to vote SNP, suddenly he doesn't want our voice to be heard.
"The Tories want Scotland to be a bit part at Westminster but it's important that we play a big part.
"And David Cameron's economics claims are simply untrue. The SNP are putting forward sensible plans for modest spending increases instead of cuts, which would support investment and public services while still reducing the deficit.
"The SNP will be a positive and constructive voice at Westminster, ready and willing to join with others in a progressive alliance to end austerity and to protect vital public services like the NHS.
"More anti-Tory MPs than Tory MPs at the election means that we can lock David Cameron out of Downing Street. And electing a strong team of SNP MPs will also ensure that Scotland has real power at Westminster to ensure that Scottish interests are served – and progressive politics delivered across the UK."