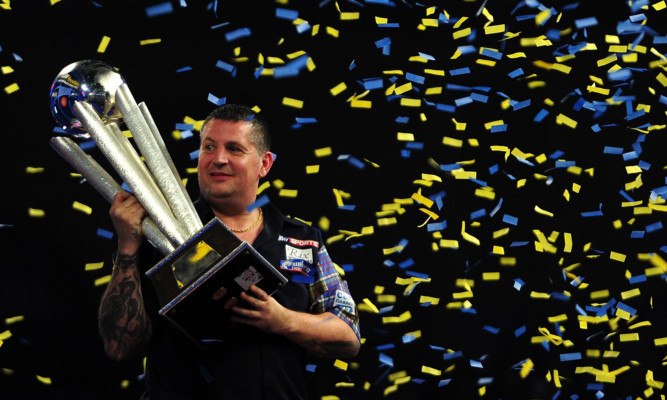 Gary Anderson successfully defended his world title as he overcame Adrian Lewis 7-5 at the Alexandra Palace.
Anderson ended a long and tortuous wait for a first world crown when he toppled Phil Taylor a year ago, and while this contest was not as thrilling, a victory gives the Scot the same prestigious prize.
In the process he was able to exact revenge on two-time winner Lewis who beat him on this day in 2011 and he heads back across the border £300,000 richer.
To defeat Lewis – almost untouchable prior to the final – was not easy, but some erratic finishing from 'Jackpot' meant that Anderson, even in spite of some baffling miscalculations at key moments, was able to get over the line.
"I was playing a good friend of mine and it just never happened, there were some good darts and some bad ones," Anderson said on stage afterwards – perplexing comments after a match that saw a PDC record 34 180s hit.
"The way I played and the way Adie played, it killed the game. I'm getting old now so I'll take this!"
The 45-year-old added: "It would be lovely to come back for a third but the body is hurting. Us older ones are running out, but I'll plod on."
Lewis continued his run of winning the first leg of each match he has played this tournament and went on to claim the first set 3-1, with Anderson looking decidedly edgy and averaging 79.14.
But he returned with an 11-dart leg to settle the nerves in the second and ended it with another, pulling level at 1-1.
He made it 2-1 in the next set, breaking against the throw with a dart at double 10 and then checking out on 75.
Lewis came back at him, breaking back to 2-2 but only after Anderson inexplicably miscounted when he had a break of his own begging. During the set, a 180 from Lewis accounted for a record 626th of the tournament.
The pair traded breaks at the start of the fifth set but Anderson missed six doubles to take it against the throw and as he unravelled, Lewis nipped in for 3-2.
Lewis was looking dominant – as he often can – and the prospect of a two-leg lead was there when he broke, but Anderson came back at him and got the sets level again.
It was Anderson's turn to break first in a leg at the start of the seventh, with Lewis responding in kind, but two missed arrows at double top from him allowed Anderson to break for a second time. He then had to watch Lewis miss a double nine before pinning returning himself on double 10 to go 4-3 ahead.
Lewis was unlucky to see two darts bounce out in the second leg of the eighth but poor finishing allowed Anderson to break him for 2-0, and even another spectacular miscount could not cost him the set as he moved clear at 5-3.
Anderson left the stage claiming he was struggling with his vision but Lewis was seeing this clearly and whitewashed the ninth, going out on 121 with Anderson wounded by three missed double 10s.
An under-pressure 86 kept Anderson in control, though, and a 108 checkout put him on the brink at 6-4 but Lewis had some fight in him at got to 6-5.
But this was to be Anderson's year again and a quite staggering 170 checkout in the final set providing a fitting finale.
"I thought we were going to a decider until he took out a 170," Lewis said. "He's been the best player and deserves it."Sc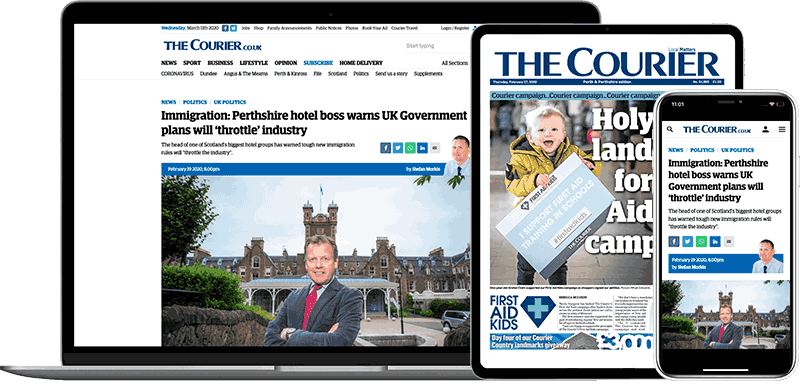 Help support quality local journalism … become a digital subscriber to The Courier
For as little as £5.99 a month you can access all of our content, including Premium articles.
Subscribe