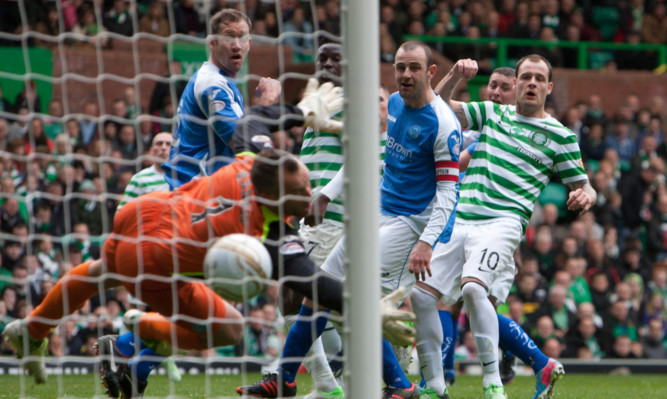 St Johnstone boss Steve Lomas admits there is a certain irony that the much-derided SPL format is set to produce a thrilling finale to the season next week.
Despite his side's 4-0 loss to Celtic on Saturday, Saints are still in the hunt for Europe thanks to Dundee United's victory over Inverness.
Now, the manager can't wait for the crunch game against Motherwell next Sunday, with Caley set to face Ross County in the Highland derby at the same time.
He said: "It was an emotional roller coaster for us because there was a real sense of disappointment after our game against Celtic.
"But Neil Lennon fielded pretty much his first-choice team bar maybe one. And they can do what they did to us to any team.
https://youtube.com/watch?v=hU0velFuETc%3Frel%3D0
"We have taken it to the last game and the boys here deserve an awful lot of credit for that, especially given where we were five games into the season.
"We'd have bitten your hand off to take this scenario so there is a real sense of positivity despite losing to Celtic."
He added: "Okay we needed a little bit of help from Dundee United but these things happen in football and after losing to Celtic, we had to hope for just that.
"It will be another dramatic day for the SPL. That is ironic after all the talk of change and the negativity surrounding the game. It might just be the most positive post-split period we have had.
"Unlike last season when we struggled after the split with injuries and suspensions, we have taken seven points from four games and it really should have been nine.
"Looking at the overall picture we have one last chance to go out and compete for another Europa League place.
"It sets things up for a final push against Motherwell. We are still in there scrapping and that is to the credit of the players."
For full coverage of the weekend's SPL action, see Monday's Courier or try our digital edition.