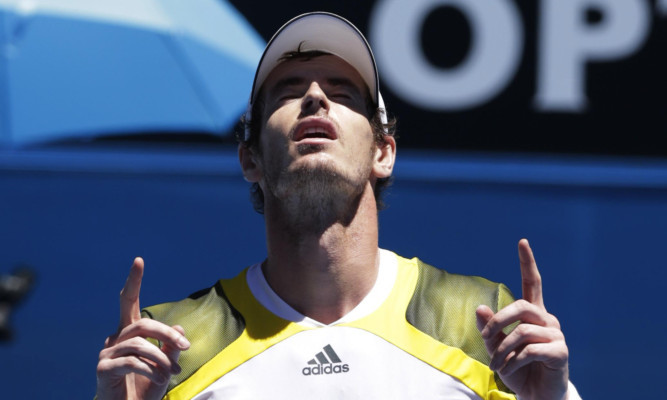 ANDY MURRAY was relieved to have got through his opening grand slam match of the year after doing a "pretty good job" on Robin Haase at the Australian Open.
Haase represented a potentially tricky first assignment for the world number three but the Dutchman was never allowed to get into his stride as Murray dominated in a 6-3 6-1 6-3 victory.
It was as good a first-round performance as Murray has delivered in recent years and he was pleased with how he coped in the oppressive heat on Rod Laver Arena.
"It was a good start," he said. "It was very different conditions to what it's been like the last four, five days. The court was playing different, much livelier.
"But I thought I did a pretty good job from the start dictating the points and not giving him too many freebies."
It was Murray's first grand slam match since he claimed his maiden major at the US Open last year but he claimed he was still nervous beforehand.
"I don't think there is anyone who doesn't (get nervous)," he said. "Nerves are a good thing. If you aren't nervous, it shows that you're really not that bothered.
"I started the year well in Brisbane but coming into the slams the first match is normally pretty tough. You just have to focus and play solid, not make too many silly mistakes. I did a good job of that today.
"It is always nice to get through the first round of any tournament but especially here."
In truth there was never any danger of Haase causing an upset.
Murray trailed the world number 53 by two sets before coming through their second-round encounter at the 2011 US Open and the memory of that scare may have been behind the Scotsman's fast start.
He broke for a 2-1 lead at the second opportunity after narrowly missing on the first with an improvised flick up the line.
And although Haase was holding his own in the majority of the hard-hitting early exchanges, Murray found a way to break through once again for 4-1 when his opponent went long on a routine backhand.
A wobble saw Murray have to save five break points as Haase started to go for broke, especially on the third seed's slightly suspect second serve, and the Dutchman did break through two games later to reduce the deficit to 5-3.
But Murray simply raised his level to take the Haase serve immediately and win the first set in 41 minutes.
Although it briefly remained competitive at the start of the second, Haase's challenge was beginning to wilt.
Murray broke for a 3-1 lead and then again for 5-1 after his opponent dumped a dispirited forehand into the net.
The standard had dropped from early on but Murray was still making remarkably few unforced errors, especially compared to Haase who was starting to display his erratic side.
Murray served it out to take it 6-1 and establish a two-set advantage.
The third was a procession as Murray cruised into a 4-1 lead without breaking sweat.
And the sense that it was all too easy can be the only explanation behind a lapse in concentration which saw Murray play a sloppy service game as Haase got one of the breaks back.
But it did not prove particularly damaging as Murray simply hit back to complete a hugely-impressive opening-round triumph.
Next up is a clash with world number 100 Joao Sousa after the Portuguese beat Australian wildcard John-Patrick Smith in straight sets.