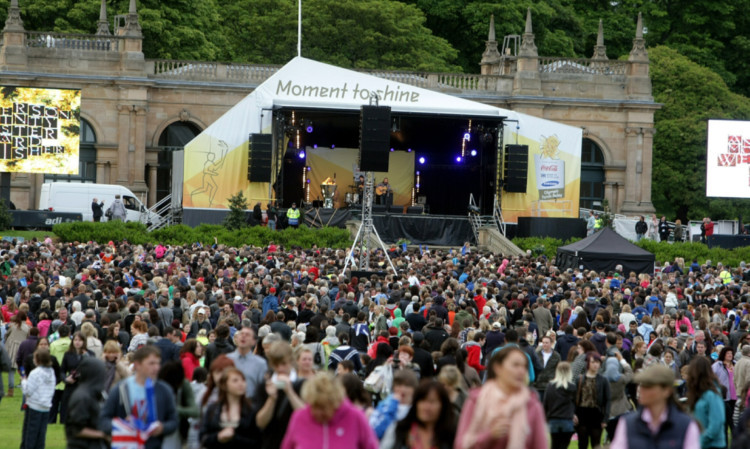 As the Commonwealth Games Queen's Baton Relay edges towards Courier Country, Jack McKeown asks if we can expect a repeat of the scenes that greeted the arrival of the Olympic Torch in Dundee two years ago.
On June 12, 2012. Dundee's Baxter Park was bursting at its seams. Upwards of 25,000 people poured through its gates and filled the expanse of grass in front of the historic park's pavilion. A deafening roar went up as Kian Steel entered the park. The 12-year old Kingspark School pupil had the Olympic Torch clutched in both his hands.
The cheers intensified as the youngster raised it proudly above his head, before making his way through the crowd and lighting the cauldron on the specially constructed stage. Across Dundee around 40,000 people turned out to witness this slice of sporting history 25,000 in Baxter Park, 10,000 in City Square and thousands lining the torch's route.
Even Desperate Dan got in on the act, with 16-year-old swimmer and torch bearer Mark Szaranek from Fife posing next to the iconic statue of the grizzled, cow pie-eating Dandy strongman.
The flame was carried by more than 100 torchbearers on its 133-mile journey from Aberdeen to Dundee.
Its route included a visit to Scone Palace, near Perth, which was once the crowning place of Scottish kings such as Robert the Bruce and Charles II.
Now, two years on, Courier Country is once again gearing up for another huge sporting occasion. The Commonwealth Games Queen's Baton Relay set off last year on a 118,000 mile tour of the world that saw it pass through 70 nations and territories.
Mark Beaumont, the around-the-world cyclist and adventurer from Perthshire, followed the baton on every step of its epic international journey as the BBC's correspondent.
As it returned to Scotland he said: "It has been brilliant, exciting, fantastic but after seven months on the road it will be great to get back, especially when there is more and more interest in the build-up to the games."
Now the baton is making its way through all of Scotland's 32 local authority areas ahead of the opening ceremony of the 20th Commonwealth Games on July 23.
Glasgow 2014 organisers have selected 4,000 baton-bearers to run, jog or walk through 400 communities during its 40-day tour of Scotland, as the nation prepares for its biggest sporting and cultural event.
It has already visited Edinburgh, Livingstone, Midlothian where Dundee-born actor Brian Cox carried it and Musselburgh.
Next Tuesday it will hit Falkirk then move on to Alloa, St Andrews, Dundee and Montrose before it heads up north through Aberdeen en route to the Shetland Islands.
It will return to East and Central Scotland next month when it will visit Perth and then Stirling.
One of those who will be proudly carrying the baton next week is Jack Twist, from Alloa.
Jack, who is 13 years old, has Duchenne muscular dystrophy, a life-limiting condition which massively restricts independent movement. While now using a full-time powerchair, the condition doesn't prevent Jack from participating in sport. In fact, the teenager engages in as many activities as is accessible to him. He's previously sit-skied, participated in cross country and used to ride with the Riding for the Disabled Association (RDA). He reached the Scottish Disability Schools National Athletics Finals, and became 2013's Powerchair Slalom Champion. He plays powerchair football weekly and featured in the runners-up team in the inaugural 2012 Scottish Cup Final. He's just one of 4,000 baton bearers taking part in the relay.
Will we see a repeat of the incredible scenes of good cheer, anticipation and optimism that were witnessed when the Olympic Torch toured in 2012? You'll find out on this website and in the pages of The Courier next week.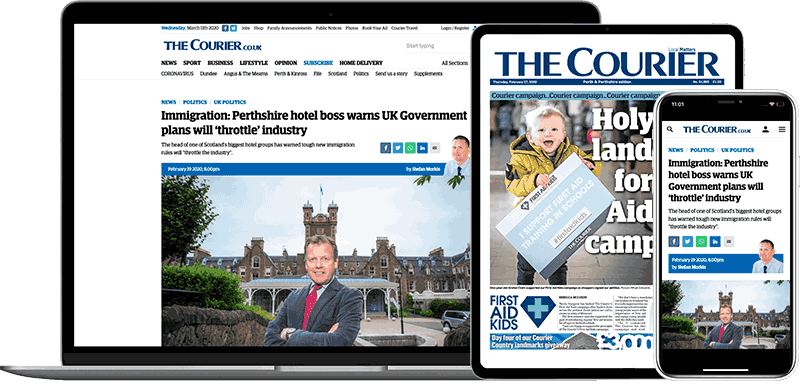 Help support quality local journalism … become a digital subscriber to The Courier
For as little as £5.99 a month you can access all of our content, including Premium articles.
Subscribe