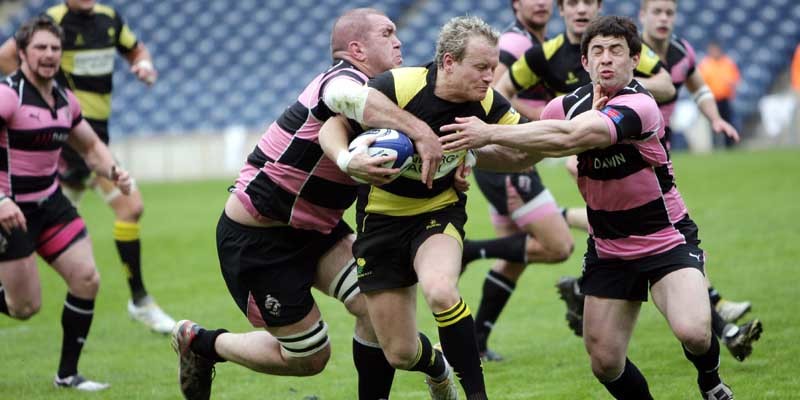 James King found that being a deckhand on a multi-millionaire's yacht in Monte Carlo wasn't the life for him, and his path back to a professional rugby career is complete with his surprise call-up to Edinburgh's starting team against Northampton in the Heineken Cup on Saturday.
The 23-year-old centre is making his first start in what is Edinburgh's most important game of the season, a must-win battle against the Aviva Premiership Saints, and is the only change in the team that lost by a single point to Cardiff Blues in the Welsh capital on Saturday.
Coach Rob Moffat believes King, who came up through the ranks as a stand-off before switching to centre, offers something different to Scotland international Alex Grove in the inside-centre slot.
The Berwick-born player completes a long haul back to the big-time which took him from the Borders through Italy to Melrose and to the lavish dockside marinas of Monaco before he won a pro contract with the capital side.
He said, "To be honest I got a bit sick of rugby a couple of years back I was playing with Melrose after being a pro with the Borders and L'Aquila in Italy but I never felt I had played to my potential through all that time and was getting frustrated.
"I was a personal trainer at a gym in Edinburgh and did a bit of travel, and then I went to Monte Carlo where a mate owns a bar and I worked the yachts there, as a deckhand mostly, some of them the big ones owned by the multi-millionaires.
"It was just good to take a bit of time out of rugby and after a while I found I missed it, the team environment."
King came back to Melrose to play in last year's Scottish Cup final and started to take his game seriously again, but did so without a thought of getting back in the professional ranks.
He said, "I had thought my chance had gone, it's not very often guys go back into club rugby at 23 and then get another contract.
"I have never doubted I wasn't good enough to play at this level I just thought the opportunity had passed me by for one reason or another."
He added, "Then you see guys like John Houston and Jim Thompson come through club rugby to be pros and reach the international set-up, so I worked harder, got noticed and Rob Moffat got in touch.""Huge game" against SaintsKing signed a deal with Edinburgh but despite seeing caps like Ben Cairns, Nick De Luca, John Houston and Grove ahead of him, was undaunted.
He said, "I didn't come in worried I could not compete or get a starting spot, I always felt I was good enough to play in the team.
"It is all down to taking my chance and I get an opportunity this weekend to see if I can do it."
He added, "It's a huge game, our biggest of the season, and I am really looking forward to it."
Moffat said King would have featured earlier but for a bruised heel from a training match in August, which cost him five weeks.
He made his first Edinburgh appearance off the bench against Aironi in the Magners League a fortnight ago, and then got half an hour against Cardiff last week.
Moffat said, "James has been unlucky but he deserves his chance from what he's done off the bench and what he's been doing on the training pitch."
Further good news for the coach is that the medical teams have given the go-ahead for key open-side Ross Rennie to play successive matches for the first time in his long rehabilitation from extensive knee surgery.
"A lot of it is Ross himself who feels he is now ready," said the coach, who has retained the three open-side back row of Rennie, Alan MacDonald and skipper Roddy Grant.
"This doesn't mean that the shackles are off, we still have to be careful with him and he probably won't play next week, but it is a significant step for him."