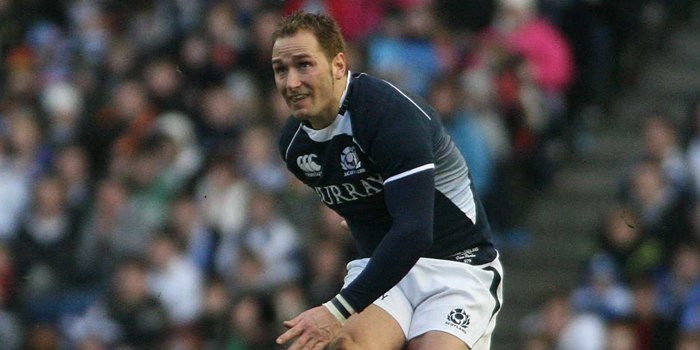 The Stade de France is Dan Park's favourite stadium to play in, but he wants to leave the vast stadium in the north of Paris with a first victory in his fourth match there when Scotland open their RBS Six Nations campaign against France on Saturday.
Parks has played twice against France and once against Argentina in the Rugby World Cup quarter-final at the Stade.
"Around the world, I think I've already said I enjoyed playing in the Telstra Stadium in (his home town) Sydney, but the Stade is a very special place," he said.
"It is probably the best you can play in, for any sportsman, it's a truly fantastic experience, from the dressing rooms, walking through the tunnel, going on to the pitch, the crowd's interaction with the game, it's just an incredible place.
"The Argentina game was a real highlight of my career, everything to do with that occasion, even though we lost.
"I don't think I'll ever get jaded with playing at places like this.
"If I did I would know it was time to stop playing."
The stand-off has moved from the Scottish support's bete noir to a vital and integral part of the international team, but he doesn't take any particular pride in changing the conceptions about him.
"I don't, because I know how quickly things can change," he said.
"It was nice to get cheers at Murrayfield last year but in the end it's about me taking care of my personal performance, and if I play well it benefits the team, the coaching stuff and ultimately the fans as well.Enjoyment"I get enjoyment just playing, but obviously more out of playing well and ultimately winning, and concentrating on my personal game was the formula that worked pretty well for us all of 2010, so I'll stick with that."
France, however, is the ultimate test for the Scots in the opening game, and Parks realises that the opening 20 minutes will be crucial.
"We have to impose ourselves on the game, the way we want to play and the way we want to challenge France, rather than stand back and see what they do, which we were maybe guilty of in last year's match at Murrayfield," he continued.
"It'll be tough because they've got a great pack, a really solid scrummage and the driving lineout is a key strategy for them, so we have to cope with it.
"We know there will be times when they come at us at 100 mph, and we have to withstand that, but that was a key part of our success in games we won in 2010, standing toe to toe when that happened and not flinching."
If it should come down to Parks' boot to secure a win, he'll be relishing it.
"We want to score tries and we'll be trying to do that but the bottom line is scoring more points than them," he said.
"You want the game-winning situation if you are a kicker, that was certainly true for me against Ireland last year with the final kick, and I think it was true for Ruaridh (Jackson) with his final kick against Samoa in November."ChallengeParks has moved away from Scottish domestic rugby this season to play in Cardiff but, while he is enjoying the challenge there, he appreciates coming back to the international set-up for both personal and practical reasons.
"There's the chance to see mates you don't see as often, and it's a joy to be in the squad at the moment, that's been a big factor in what we've been doing.
"But there's also the chance to work on things that I've maybe just slipped off while being at Cardiff, and the coaches and my fellow players here know me well enough to point them out, so I've been working on them this week.
"It's not huge, just little things and basics, but it's a benefit to get the coaches' eye when I come back to Scotland."
Head coach Andy Robinson, who originally left Parks out of his first squads until he recalled him during last year's Six Nations, is specifically one the stand-off feels grateful to.
"I've spoken quite openly how Andy's been influential in my resurgence in form, and I think it's down to him being honest with me," he said.
"That's been the case throughout the squad, you don't get people talking behind the coach's back and that's because players respect him because of his honesty. The bottom line is he knows his stuff, he's a really good coach."
Scotland A, the under-20s and the women's side are all in action on Friday night.
The A team take on Italy at Netherdale, while the under-20s and women square up to their French counterparts.