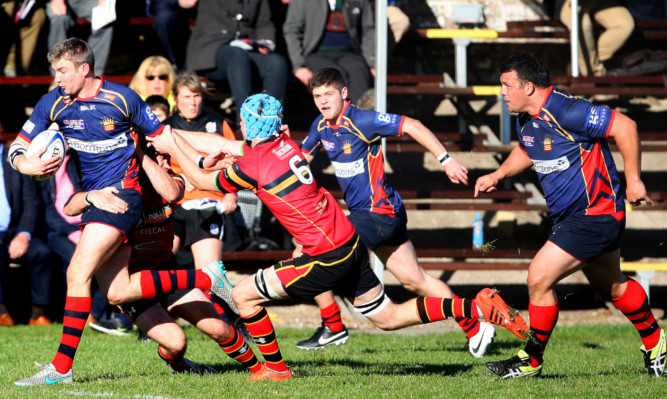 A fifth win in a row, bonus point comfortably secured, and the opposition restricted to one foray into their 22, so what was the message from head coach Colin Sangster in the Dundee High huddle at no-side at Mayfield on Saturday?
"Disappointment", and it was agreed unanimously by the players, which shows what kind of standard High are aspiring to as they climbed to third in BT National One after an ultimately comfortable 24-7 win over Stewarts Melville.
The frustration stemmed from too many points left on the pitch, certainly enough to have passed the 40-point marker for the fourth week in succession if they'd been a touch more accurate. Too often flowing moves involving multiple handling, very much in the style Sangster is seeking to promote, ended in a pass a mite forward or balled spilled.
"You'll take the five points anytime, obviously," said the coach. "But we're aware that sort of performance won't be good enough against the better sides in this league. We could have been over 40 points again easily today if we'd taken our opportunities."
Two interlinked factors were probably crucial in the missed chances, the loss of playmaker Duncan Leese to injury just after High scored their first try, causing a number of shuffles at half-back, and the team's over-enthusiasm to play an open game in his absence.
"Duncan's the tactician and there would have been times when he'd just take territory or put the kick in behind," said Sangster. "But fair enough, we have to have a better plan for when we lose key players like him."
The team do seem to be buying into Sangster's plan for the club, which started in uncertain fashion with two home defeats and a draw at Kelso in their first three games, but has now brought four successive league wins, including the thriller last week against Watsonians at Myreside when Blair Cochrane scored the winning try with the last play of the game.
The 37 points conceded in that match last week account for a third of the total so far, and it was just one missed open-field tackle on the stroke of half-time that produced Stewart Melville's sole score on Saturday. The Inverleith side, in what seems like a major rebuild after narrowly missing promotion the last two years, barely threatened in the rest of the game.
High took time to make their superiority count but when Andy Dymock's pace caused mayhem in midfield, Ronan Joy, a late replacement for the injured Cochrane, went in for the opening score. Neil Herron, forming an incinsive partnership with Matt O'Sullivan in the centre, stepped and dodged for the second, and in the second half Nick Alston and skipper Alan Brown – with surely the easiest try he'll score all year – went over for the other two.
While the team's much changed over the last couple of seasons, the spine remains the same with Brown anchoring the scrummage, and gaining his usual ascendancy there as the match went on, and the return of Danny Levison after a year at Heriot's has re-ignited his partnership with Dymock, who is always a threat even when subbing at stand-off as he did for a time on Saturday.
Levison remains a class act, athletic, pacy and brilliant at re-starts, and excellently complimented by the underrated Hamish Livingston at open side.
They look like a team that can thrive in perfect conditions like Saturday and perhaps when the pitches start to get heavier from now on as well. In a tight league which has had some surprises so far – Marr leading, promoted Howe and Mussleburgh in the top five – that could be a great combination.