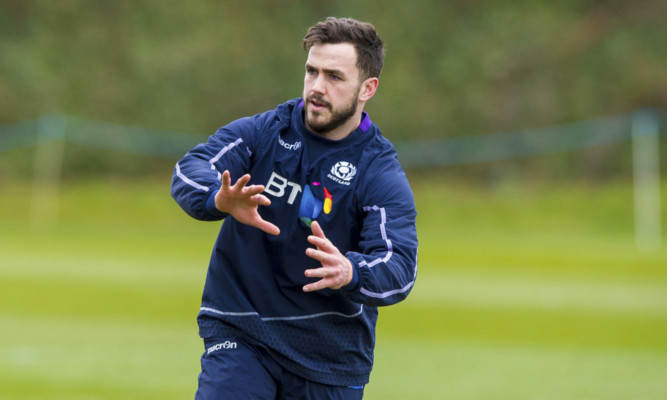 Alex Dunbar's year-long rehabilitation to get back into the Scotland team had its setbacks, but the Glasgow centre is ready to reclaim his place as one of the first names on Vern Cotter's teamsheet.
The head coach was visibly impatient throughout the last year to get Dunbar back involved after the non-contact training ground injury that tore his ACL at this time last year, just before the fourth round of 6 Nations games.
Cotter tried desperately to get him fit and ready for the World Cup – in the end fruitlessly – was stymied from calling him up by a further rib injury during the tournament, and then had to do without him for the first three games of this RBS 6 Nations due to a hamstring strain.
If anything was an incentive for Dunbar to get back, it was the head coach having that sort of confidence in him, with it likely the centre will be recalled for Sunday's meeting with France.
"It is personally gratifying, and to speak to Vern and (assistant coach) Matt Taylor all the way through," he admitted. "But now I have to show on the pitch I deserve that place.
"I have played well in games and done stuff that has been good so it is just a case of doing it more often and making sure you're one of the first names on the team sheet."
He agreed that it has taken him almost a year to get back to where he wants to be, with those setbacks in addition.
"It's a difficult one, you get back healed to play and you feel good, but then it's about getting the conditioning back. You've not taken the big impacts for so long, it does take you a couple of games to get used to it.
"It probably has taken a good five or six months for me since I returned to playing to feel like I'm back to where I was before it happened.
"The toughest bit is the first sxi months, staying motivated because so much of the rehab is repetitive. You have to keep yourself switched on mentally."
Dunbar coped with that by speaking to team mates like Sean Lamont and Peter Horne who'd been through the same experience, and also getting away from rugby completely back to his farming roots.
"It's difficult watching although it's much easier when the boys are doing well," he said. "I get as excited jumping around as anyone, like in the World Cup quarter-final.
"But you have to try and find a balance. You can't be totally switched on to rugby all the time, you need the downtime to get away and do your own thing.
"You've got to find something you can do outside rugby, something you enjoy. I got away and did a bit of farming (at the family home near Lockerbie). Anything to get away from rugby, really."
There was little sign of Dunbar hiolding back when he did return, although the rib injury in Ocrober and the hamstring in February were frustrating setbacks.
"I just chucked myself straight into it and hoped for the best, but it has been frustrating," he said. "A few people when I was coming back said bad things come in threes.
"So I hope I have all three out of the way now, but I could do no more about it. Hopefully it is out of the way now and I can concentrate on the rugby.
"If I could come back in now I would be delighted, although I don't know what the team is yet.
"To be out so long , have aspirations of coming back and then being injured again, now playing well and on a little run, I am just concentrating on playing and trying to enjoy it."