 The more Scotland are up against it, the more likely they'll produce something special, believes Mark Bennett.
Adversity in the shape of two disciplinary bans to key players Ross Ford and Jonny Gray, on top of the fact the Scots were already rank outsiders to beat Australia in Sunday's World Cup quarter-final at Twickenham, sits well with the Scottish psyche, thinks the young centre.
"It tends to be the way it goes," he pondered when asked if it rankled that Scotland were being written off. "We always seem to be up against it and everyone does write us off. But I think the Scottish culture thrives on that.
"I'm looking forward to it; it's a huge opportunity for us. We've got nothing to lose because no one is expecting us to do well bar the squad itself, so let's get into them."
Bennett is under no illusions about the task on Sunday, admiring the Wallabies from afar as they've made a convincing case of being the in-form team in the competition.
"I think they are a smart team," he agreed. "They pay some exciting rugby, expansive rugby.
"You've got (Matt) Giteau at 12, an outstanding player. I played against him for Glasgow against Toulon and he was excellent that day, so I'm looking forward to renewing that battle.
"They have a big man in Kuridrani at 13 who will always try to get the over the gain line. That's a challenge for us, but I'm always up against someone who's bigger than me so I'm used to it now."
Scotland won't be passive in this game, looking for the sort of "rope-a-dope" performance that got them victories in two of the last three meetings with Australia.
"We're going to go out and attack and take the game to them," he said. "The only way we are going to beat them is by going at them.
"We're not going to win by sitting off and trying to stay in the game till the latter stages. We want to go at them, though I've no doubt they will be saying exactly the same. So I reckon everyone could be in for a good one."
It needs Scotland to switch on from the very start of the game, he added, and to improve defensively.
"It's just about getting into the game as early as we can and making sure that the first few things go according to plan. Then you can build confidence and it's easy.
"We were slightly off in our kick-off reception last week which allowed them to get momentum and it's hard to steal that back straightaway.
"The Samoans came out and really threw the ball about. They were a lot more loose than we expected and they really took the game to us, and it was the best rugby they played in the tournament by far.
"We didn't help ourselves with some of our decisions and some of the ways we set up, but we know where we went wrong and also know that we're a better side than that. There are no worries there."
Bennett had his first experience of Twickenham in the spring, scoring a try in that match, and he's looking forward to going back.
"It will be interesting us being there and England not there," he said. "I'm hopeful we'll get a good Scottish turnout and if there are English and Welsh fans who have hedged their best and bought tickets then hopefully they will be behind us.
"It's going to be a great atmosphere. It's a great place to play. I loved playing there in the Six Nations so we are all excited about it."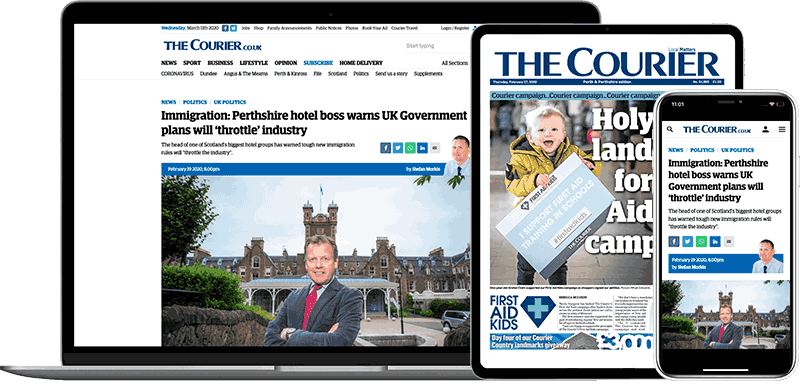 Help support quality local journalism … become a digital subscriber to The Courier
For as little as £5.99 a month you can access all of our content, including Premium articles.
Subscribe