 John Hardie found it hard to accept Scotland's losing Six Nations streak before it ended in Rome two weeks ago, and is determined to build the winning streak he believes his team mates deserve.
The open side has got rave reviews since coming to Scotland last summer and his try-scoring performance in the 36-20 win over Italy, in addition to 16 tackles made and none missed, was just the latest.
But the New Zealand-born flanker couldn't quite believe his team-mates had actually got into the situation of losing nine 6 Nations games in a row.
"Obviously I wasn't here until this season, but it was strange coming into that environment because the team was right there, and we were coming close in matches," he said.
"To get the monkey off our backs against Italy was a great. I've had a few losing streaks of my own in my career, I know what it's like to be up and down, and you just need to keep believing in what you're doing.
"The standard is high, and the boys have all really impressed me since I came here. We were just losing by the odd point here and there and falling off at key moments.
"The Italy game was great but we park that now. There is a lot to improve on and to make it two in a row against France on Sunday would be awesome."
Hardie played in the World Cup warm-up match against the French in Paris last August, a proper no-holds-barred test match that he believes Scotland should have won.
"We showed then we can match them," he said. "We were ten minutes away from beating them and a lot has changed for us since then.
"We probably should have nailed them at the end but it has given us confidence ahead of this game. The game in Paris was very physical, but all the Six Nations games have been physical.
"That game was only my second since coming over here and I remember being sore for a few days afterwards."
Hardie isn't impressed with people back home making unfavourable comparisons between the Southern Hemisphere and Northern, however.
"This is a different sort of rugby from what I was used to, but I don't think it's fair to compare the Northern and Southern Hemispheres.
"I haven't been here long enough to make any kind of judgement on it but what I will say is that I've loved every minute of it.
"It's been hard, it's been fast, the tempo has been high and Scotland are improving. For me it's up there with the World Cup in terms of intensity."
And while he's used the bye weeks to rest and recuperate, Hardie's looking forward to getting out to see more of the country once the 6 Nations is finished, one historic part in particular.
"We got a game of golf up at St Andrews when we were based up there," he said. "It was the Castle Course which was great fun but I've always wanted to play the Old Course, and maybe I'll get the chance when we're finished with this important business."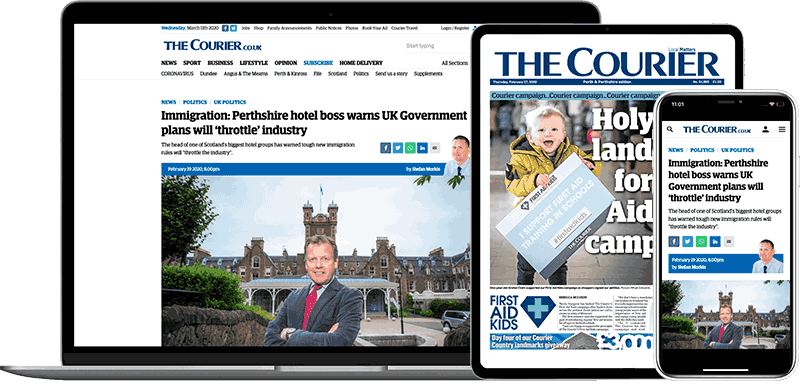 Help support quality local journalism … become a digital subscriber to The Courier
For as little as £5.99 a month you can access all of our content, including Premium articles.
Subscribe