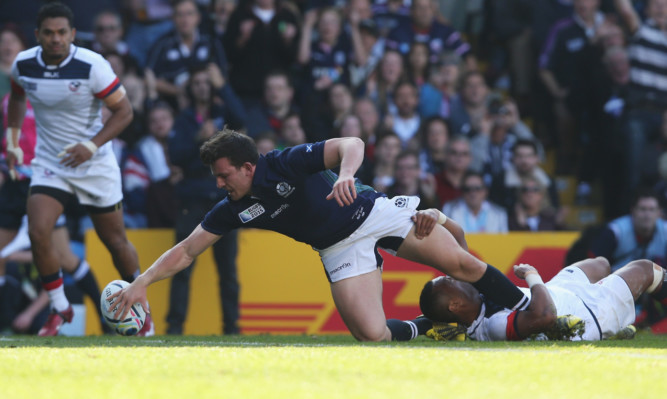 Scotland need to keep their rapid tempo for the Springboks but stop the "harum-scarum" stuff that let the USA have a sniff of the game at Leeds on Sunday, believes centre Matt Scott.
The Edinburgh No 12 came on to great effect in the second half and scored his fourth test try securing the priceless bonus point that kept Scotland at maximum output after two games of this Rugby World Cup.
But he and the squad are self-critical of their first half against the Eagles where they were too keen to run up tries before they'd set themselves into the game.
"We recovered well after half-time and did well to come out and score five tries, but we'll need to dissect what went wrong in the first half," he said.
"In the first half everyone was quite panicky on the pitch. It was one of those games where you can see space and everyone's trying to get the ball to that space so you've got everyone trying offloads and playing harum scarum stuff.
"The try directly after half-time settled us down a bit and that was the turning point because after that we definitely played a bit more with our heads in the second half."
High-risk plays were not the way to go against the US, he continued.
"If these offloads and risky passes come off it looks great but they were high-risk plays and they obviously didn't then, while we had trouble in the scrum and lineout to add to our problems," he added.
"Vern's half-time chat wasn't the hair dryer, it was more a rational chat laying out what we needed to do.
"He was firm, saying that we needed to do this and that better. We were able to watch things on a TV screen in the changing room and we went through their try and saw how we needed to get off the line quicker in defence, also a couple of kick-chase kicks."
The high-tempo game will be needed for the Springboks, who are carrying a number of older players not so rapid about the park, but it has to be controlled, said Scott.
"We're good at playing a high-tempo game, but that shouldn't be confused with throwing the ball about aimlessly like we did at points.
"It's about playing smart Scottish teams in the past have been good at that.
"Our first try started with good lineout ball, then a couple of forwards driving down the middle and finally quick hands through the backs. Sometimes the best rugby is simple rugby."
Scott is likely to start against the South Africans and getting a try did his case no harm at all.
"Sunday was one of those games you want to come on and make a difference," he agreed.
"I said to myself before I came on that this game doesn't need anything fancy, it needs me to be direct and to run hard and I think I had two or three carries where I did exactly that. That sort of game is one of my strengths."
And although he's critical of some of the play, Scott thinks that could be a positive in the long-run.
"This was definitely a bit of a wake-up call for us," he added. "We wouldn't want to have played all of our best rugby coming in to these last two pool games.
"No matter how we got the bonus points the main thing is that we got them. "We also played some good rugby at times so we need to bring that all together in one performance. If we have a first half like that against South Africa or Samoa then we're going to be more than a few points down at half-time.
"The first two games have been "job done". If you'd given us two bonus point wins before the games then we'd have taken them.
"It was ugly and scrappy at times but we can take heart from the resilience we showed not to panic and not to let those matches descend into a dogfight. Instead we stretched our legs and scored a few tries.
"Even when we weren;t playing well we were creating chances. If we continue to put ourselves in these positions we'll create more tries."