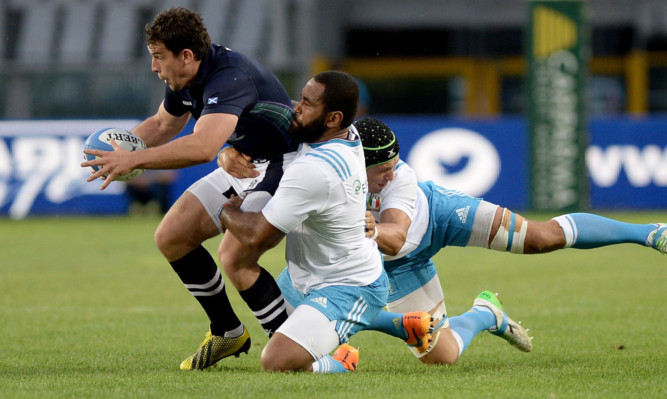 Just two matches in, and already everyone's a bit tired of Scotland's Rugby World Cup warm-ups.
Last time Scotland went to a World Cup, they played just two warm-up matches which in hindsight was actually too few. Saturday's ultimately welcome 16-12 win over Italy in melting conditions in Turin means we're just halfway through this competition's "phoney war".
Sir Clive Woodward, grumpy at pitchside in Sky's coverage of France and England in Paris on Saturday night and obviously wondering why he had to be there, was all for stopping this nonsense. Cut the warm-ups, slash the squads to 31 now, and just bloody well get on with it, hinted the man who knows a wee bit about winning World Cups.
Vern Cotter clearly doesn't agree, as there's still a whole week before he holds a meeting with his fellow coaches to trim Scotland's squad and he's looking forward sort of to spending a whole morning on the process.
Saturday's game would have helped a bit in this regard, as it gave some clarity to some issues. It may have helped that it was utterly unlike last week's free-flowing, entertaining game in Dublin, with only the frequency of errors bearing any resemblance.
This was as dour as most Scotland-Italy matches have been in the last decade, an awful arm-wrestle with Italy largely being allowed to dictate the pattern of play.
And after it was mercifully over, the result is probably the most positive thing to take out of the game, it being Scotland's first win in 2015, in mid-August.
What did we discover this time? Well, the major faults in Dublin, maul defence and the kick-chase and contest, remain major faults. Tommy Seymour and Stuart Hogg will improve the aerial game, and anyway in all the pool games these deficiencies are probably only really going to matter against South Africa. However the Springboks will be drooling at the prospect of mauling Scotland into oblivion.
The scrum has not been a success so far, but Scotland put what's probably their first choice front row on for the last 20 minutes, and the effect was almost instantaneous a scrummage struggling for the first two hours of this warm-up campaign was suddenly solid.
Stuart McInally did okay, Gordon Reid holds his own and does a job in the loose, but if Mike Cusack's not shoring up the scrum, he really shouldn't be there at all as his round-the-park attributes are minimal.
Scotland badly missed the late call-off Grant Gilchrist, and while Jim Hamilton did a sterling warrior's shift playing 80 minutes in those conditions, he remains a penalty hound. If this had been a Six Nations or World Cup game, JP Doyle would surely have shown a yellow to the veteran lock.
John Hardie was good, probably better all-round than Hugh Blake, although him getting cramp after just 50 minutes was slightly worrying. Alasdair Strokosch led well and Adam Ashe is still the best all-round choice at 8 in the future, but the pack were badly rattled by the aggressive Italians.
Similarly, Sam Hidalgo-Clyne has youth and all-round talents, but he toiled behind his beaten pack and Scotland did look better with Henry Pyrgos on. The Glasgow scrum-half's inside run in support of Matt Scott to score the winning try was a further illustration of the extra elements he can now bring.
Duncan Weir was tidy and is probably the safe choice to back-up Finn Russell at 10. But the Scottish backs looked pretty pedestrian until Peter Horne came on, just about sealing his place in the final 31 in the process, surely.
There was the thrilling run into the 22 in his first action and then his part in the try, releasing Scott up the touchline. Horne's distribution, his feet and his simple rugby intelligence make him an underappreciated asset for Glasgow and if Alex Dunbar isn't fit he must have the line on inside centre.
In the end, defence coach Matt Taylor was probably the happiest camper in the management team. Scotland buckled at times but Italy only once looked like scoring. Richie Gray, although taking time to get into his game, is an essential nuisance to the opposition's lineout.
Next week the Italians come to Murrayfield with, one supposes, a team strengthened by their talisman Sergio Parisse. Cotter is likely to give a first airing to many of his frontliners, so the Scots should be looking to play with some licence.
They've got the win at last; time to work on the belief.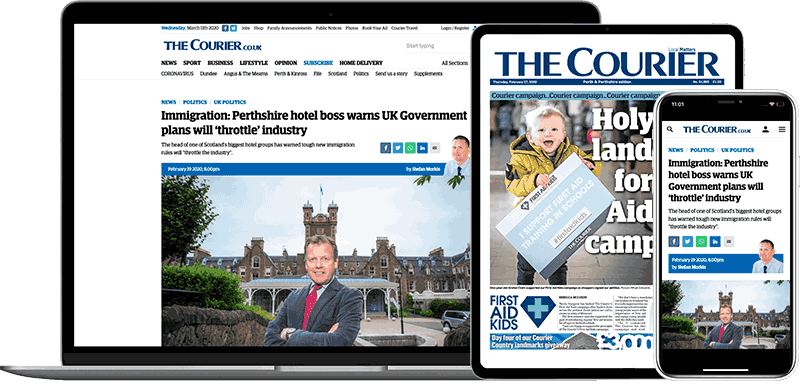 Help support quality local journalism … become a digital subscriber to The Courier
For as little as £5.99 a month you can access all of our content, including Premium articles.
Subscribe