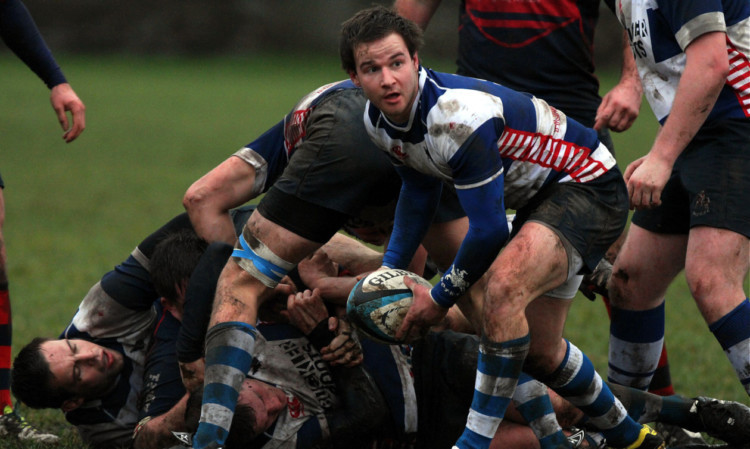 There's a stirring feeling of change at Duffus Park in Cupar and Saturday's big game against Musselburgh will have a crucial bearing on what could be an incredible season for Howe of Fife.
The £1.6 million plan to turn the Duffus stand into a community facility which will underline the club's role at the heart of their town is already well advanced, with a fundraising frenzy going on in addition to a £450,000 grant already secured from the Fife Community Trust.
The future of the club is still best illustrated by the 300 youngsters playing the game at all levels every weekend, but the plan is to give them first-class facilities, with the new development featuring eight changing rooms, a gym, a community caf and new clubrooms for the Howe on-site rather than a mile away in Provost's Wynd.
The club have done pretty well in producing top-level talent in recent times, but even if the last two seasons have conspired against them, they're still in with a great chance of making the step up from the Championship to National League rugby.
Two years ago the Howe won the old Premiership Three title with something to spare but another league restructuring meant they were denied promotion.
Last year they lost in the final moments of a crunch game at Peebles scheduled at lunchtime because it was on a Six Nations Saturday which left them just short.
Howe could certainly compete already at National League level witness their last two matches in the Caledonia Cup, where they won away at Dundee and then were within a few minutes of toppling Premiership Aberdeen Grammar before going down 14-13.
The Championship race has been a three-way battle all season, but `Burgh were the first to blink in losing at home to Jed-Forest in November. The Borderers' only loss so far was at Duffus, but they have been less proficient at picking up bonuses than their two rivals.
Howe have two games in hand on `Burgh and one on Jed. They also have the best scoring and defensive records in the division but one suspects that nothing but bonus point wins will suffice in the run-in.
Jed are at home to Kirkcaldy, who are still in fourth place, although well-detached from the top three. Anything their fellow Fifers can deny the Riverside Park side would be welcome to the Howe.
Meanwhile hope springs eternal for Dundee HSFP, nine points behind Watsonians in the chase for the play-off promotion slot in the National League, illustrated just how crucial that second half slump was when the Myresiders came to Mayfield before Christmas.
Three of Watsonians' last four games are at home, but they're all against decent opposition Kelso, champions-elect Boroughmuir and Stewarts Melville so all hope is not yet lost.
What's certain is that High have to bounce back quickly with a tricky away trip to GHA, where they need not just a win but a bonus to keep up the pressure.
Richie McIver is now away from the club but 18-year-old Chris Jollands has shown up well in two starts in the back row.
It remains to be seen whether head coach Colin Robertson will continue with Bryce Hosie at 10 and Andy Dymock at 15, where they've lined up for the last two Caledonia Cup matches.
If Perthshire were complacent in any way that their handsome win at Dunfermline a fortnight ago would make the Caledonia Division One run-in a formality, they had ample opportunity to reflect on that as Morgan's Graeme Kiddie lined up what would have been match-winning penalty last week at the Inch.
The former Glasgow centre missed, however, and `Shire remain on course for the title, although now surely well aware of potential pitfalls even on their own patch.
Mackie FP are the visitors to the North Inch this week.
Morgan's performance underlined that they always play outstandingly well against `Shire but also they are the most improved side in the division. Dunfermline, who rebounded from their disappointment with a good win at Ellon, have been warned.
Any further `Shire slip-ups will be feasted on by Orkney, who are at St Andrews University for a morning kick-off.
They'll hope at least to keep the title race alive until the final scheduled game on April 5, when they are set to travel to Perthshire.
Hillfoots still top Division Two Midlands with 13 wins from 13, and probably face their toughest remaining test when they travel to Glenrothes.