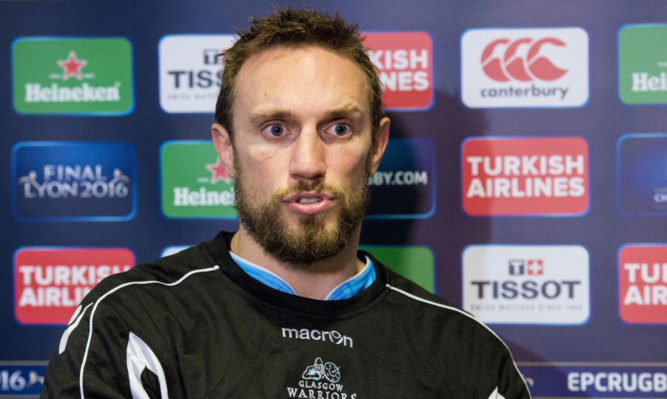 Glasgow will not forget their traumatic weekend in Paris but are ready to focus on an unexpected advantage to start their European Rugby Champions Cup campaign at home at Scotstoun this weekend.
The Warriors were stranded in their team hotel 40 minutes north of the turmoil in the centre of the French capital and veteran scrum-half Mike Blair admitted the squad had a sleepless night thinking about family and fans who had followed them to the French capital getting caught up in the terrorist attacks.
Thankfully none of the travellers headed for the subsequent-postponed ERCC opener against Racing Metro at the Stade Yves Manoir in the north west of Paris were harmed, and the race for the quarter-finals has been postponed a week until Northampton Saints come to a sold-out Scotstoun on Saturday.
"It was very difficult," said the former Scotland caotain. "We were only getting the same information as everyone else via TV or Twitter and we didn't know what the situation would be next day.
"Obviously we suspected our game would be called off but we had to keep prepare like it wouldn't be. Everyone would go to bed about 10 pm before a big game but the information was coming out about then and it is difficult to sleep when you are so close to it.
"We knew fans were over and I think Tim Swinson's parents were also in the city. It played on our minds."
Still, the rugby player in him brought mixed emotions, he admitted.
"Part of you thought, we are ready, we are prepared, maybe we should get this game done?" he said. "But really it did not feel right, the respectful thing was not to play. It was the right thing to do for the people of Paris and for us."
The team did go through a vigorous training session at game time before returning to Scotland, and although the upset remains the focus has switched back to the job in hand, he added.
"We will be seeing this as our first game in Europe all over again, and it's now at home which is an advantage to us," he said. "We are charged up to get going, we are enthusiastic.
"You move on quicker in terms of preparation because you don't have to review last week's game. We are ready for Northampton now. We have put in the preparatory work and it puts us in a strong position."
Blair has plenty of experience of Northampton's style from his time in Newcastle and playing against them for Edinburgh in the past.
"When they play they bully and outmuscle you and that seems to be the way they are going to approach the game," he said. "The most successful time I've had against them was for Edinburgh when we were able to play with tempo and move their big forwards around and we have guys at this club to do that.
"Our defence is going to have to be massive as well, stopping them getting go-forward ball and manipulating territory.
"Making that European breakthrough is very important for this club, but at the same time we need to get the games right and win them. We don't want to even look at the end product until we have played well in the games."