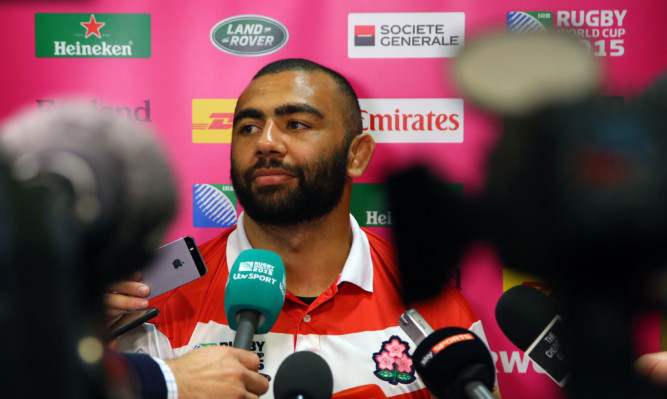 Japan captain Michael Leitch has warned Scotland that his side have no intention of being World Cup one-hit wonders.
Leitch and his team-mates will have barely had time to come back down to earth following Saturday's stunning win over mighty South Africa when they meet the Scots at Gloucester's Kingsholm ground on Wednesday.
They may be battered and bruised following that Brighton bombshell, while Scotland have yet to take to the field at England 2015.
But the Brave Blossoms are still buzzing and Leitch insists they would not have it any other way as they prepare a World Cup welcome for Vern Cotter's side.
"We're a bit beaten up and coming back from a hard win, but I'd rather be in our position than the Scottish," he said.
"One of the hardest things in rugby is consistency so as long as we don't get too complacent and just keep working hard then who knows what could happen?
"This could be a one-hit wonder, but if we can back it up then it could be something special.
"We prepared very well to beat the Springboks, our preparation was almost perfect, so working towards Scotland we have to make sure we don't get too ahead of ourselves.
"We beat Georgia at Kingsholm a couple of weeks ago, so we should have a little fanbase down there. Plus Gloucester wear the same tops as us!"
Leitch has received plaudits the rugby world over for a career-defining decision to go for broke against the Springboks.
With Japan trailing 32-29, but a man up after Coenie Oosthuizen was yellow-carded with 90 seconds to go, South Africa conceded a penalty just metres away from the try-line.
A successful kick at goal would have secured a memorable and merited draw, but Leitch's call paid even more dividends as Karne Hesketh went over for the winning try in the 84th minute.
Reflecting on events moments before and after an emotional final whistle, Leitch said: "To not settle for the draw and to go for the try was a big call, but the boys stuck to it and gave it their all to secure the win.
"It's up there with the biggest calls of my career, but we'd drawn two World Cup matches before and we wanted a win.
"When it got to the 60th minute and we were drawing, I looked up at the big screen and there was this old man in tears – and we still had 20 minutes to go! So when we finally won, yes, there were a few tears."