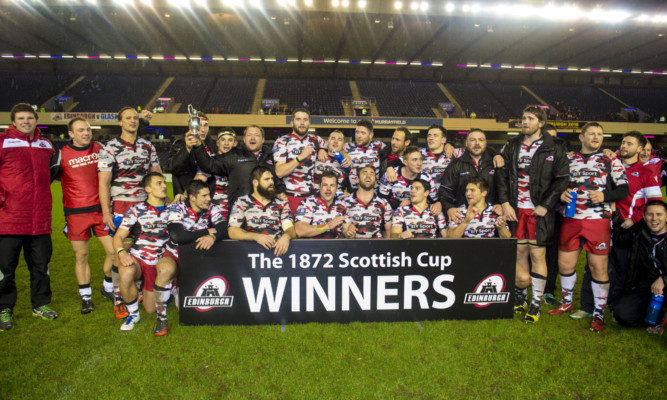 Edinburgh head coach Alan Solomons is still preaching caution but believes Edinburgh's festive double over their rival Glasgow is a significant staging post in his team's development.
The veteran South African wouldn't admit to an aim of a top four play-off place in the Guinness PRO12, although they moved into that position at the halfway point as a result of the dogged 14-11 victory at BT Murrayfield on Saturday, retaining the 1872 Cup and winning twice in the same season against their Inter-City neighbours for the first time since season 2003-04.
But he did feel that his side has now made up the gap on the Warriors in his three years at BT Murrayfield, and given that Glasgow are the current PRO12 champions, that would suggest ambitions beyond the stated top six finish.
"I think we have had constant improvement in my time here, so winning twice does make it more special," he said.
"We are in with a shout to make a play-off, but there is a long way to go. Our big aim is to finish in the top six so we play Champions Cup rugby.
"We've done really well tonight and the consequence is that we have put ourselves in a top four slot at the moment, but there is a long way to go in the season and we are well aware of that."
Once again it was Edinburgh's smothering defence a revelation since Peter Wilkins joined the coaching team at the start of the season which was the foundation, holding Glasgow off during their furious start and then surviving 30 phases at the end as the 14-man Warriors pushed for a try.
"The last two or three minutes of the game were just incredible," he continued. "We just weren't going to let them score.
"What's best for was the replacements who came on John Andress, Alan Dell, Alex Toolis, Neil Cochrane – those boys made the difference, we needed those fresh legs as it turned out.
"Our strength in depth has improved dramatically if I go back to August 2013. We now also have young players coming through which we didn't really have at that point. All in all, the squad is in a much healthier position."
Even the controversial switch of venue Edinburgh have never won at Scotstoun was not that much of an issue, claimed Solomons.
"We had an advantage, but not a substantial advantage," he said of the venue change. "Murrayfield is the home of Scottish rugby, where the national team plays and the bulk of the Glasgow players play for Scotland.
"The changing room they had tonight was the national team's changing room. They had our coaching box, they warmed up on the side we normally warm up on.
"The pitch here is more conducive to their kind of rugby than Scotstoun, I believe. There was no travel, they slept in their own beds. It's not far to cross from Glasgow to Edinburgh.
"So there may have been a little advantage, but it wasn't massive by any stretch of the imagination. It's not as if they were coming into foreign climes."
Solomons was most pleased by the way his team had fallen from peak performance of their 23-11 win the first leg yet still found a way to win, and admitted that he needs to get them back down to earth for Treviso next Friday a game that, with the right results elsewhere, could see Edinburgh go top of the PRO12.
"This is an absolutely vital game," he added. "I decided not to say anything after this game because I think the players need to enjoy the evening and what they have achieved.
"But when they come back in next week it is something I will be pointing out. The thing about the rugby season here in the Northern hemisphere is that this is a busy time. The enjoyment of New Year has to wait until about June."
Edinburgh's injury list looks like diminishing a little with Stuart McInally, who was injured just prior to the World Cup, set to be available next week. Alasdair Dickinson, who has missed the last three games, is also due to return.
Meanwhile Glasgow's hopes of retaining their title took what could be a mortal blow, exacerbated by what looked like a bad injury to Scotland centre Peter Horne in the late going.
The fans who did travel through from Glasgow did manfully to make it at least sound like a home game for the Warriors the atmosphere was better with less than 8000 in the ground compared to the 23,000 in the first leg but Gregor Townsend was adamant that they would have preferred to play at Scotstoun.
"We've had a game postponed there already and if the weather remains like this who's to say it might not happen again," said the Warriors coach.
The Warriors are now eighth in the PRO12 with that postponed game, against Leinster, still in hand but are about to play three European Cup matches in as many weeks before Townsend loses a large group of his frontline players to Scotland's RBS 6 Nations campaign.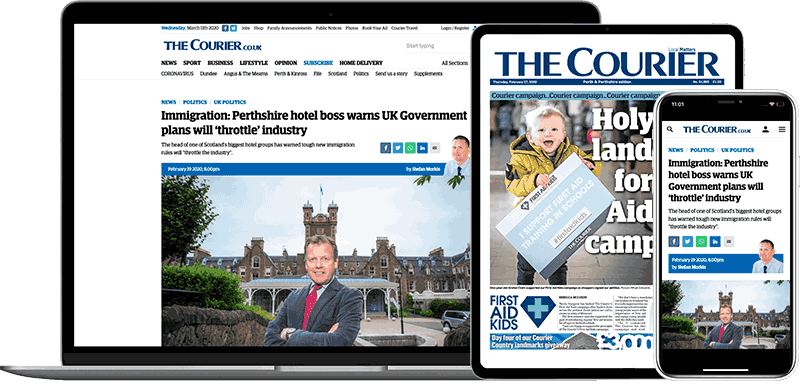 Help support quality local journalism … become a digital subscriber to The Courier
For as little as £5.99 a month you can access all of our content, including Premium articles.
Subscribe