 Everything wrong against Italy will be made right if Scotland can produce in the final two games of the RBS 6 Nations, stressed veteran prop Euan Murray.
The elder statesman of the team has known plenty of disappointment in a Scotland shirt but enough joy to know that the young Scotland side has to focus on what it can do now rather than dwell on the loss to the Italians.
And while the task is daunting, with England at Twickenham this week where the Scots have not won for 30 years followed by an Irish team that could be seeking a Grand Slam, Murray believes Scotland are not far away.
"Ultimately if we get two wins in these last two games it will right the wrong that has happened," said the prop. "If you look at the front row we are all experienced, so we try and do what needs to be done. If something needs to be said we will say it and we try to lead by example.
"I am not sure how the younger guys cope with it. The guys that have been around know what has happened on paper is very disappointing.
"We performed really well this season and it is really disappointing not to have a win. Unfortunately we underperformed against Italy, let out foot off the gas after we scored our points and let them to stay in it.
"Credit to them they played hard and never gave up but we have to put that behind us and move on. We have two games left. If we do well in these two games and win I think the season will have been a successful one leading into the World Cup."
Murray's tasted victory against England at age-grade level and twice in Calcutta Cup matches 2006 and 2008 but his only success at Twickenham was when he played for Northampton Saints.
"It can be quite an intimidating place to play," he said. "But it is all about playing for your country. It does not matter where you play now. You are representing the people of Scotland. You want to do your best.
"There is the same excitement, the only difference is that if there is a break in the game and you happen to glance up and see the stands. It has changed in my time I think, more noisy and intense that it used to be.
"When I was down there there was always a respect for us. There is that banter, but generally respectful."
He was impressed with the way Ireland confronted England upfront, and believes there's a lesson for the Scots there.
"Ireland are a very aggressive team, a very strong team, and we can learn from that," he said of the Irish suprising the English by having parity in the scrum.
"It's no surprise to me that they did well, every team in the Six Nations is strong now and it's getting closer and closer. Sometimes in the front row it's about heart, sometimes it's about referee's interpretations. We hope it's about heart."
Murray's been first choice for Vern Cotter whenever available at tight-head, but he's uncertain about his future as his one-year deal at Glasgow runs out in May, especially with two of a family and another child due in August.
"We're in negotiations about a new contract and it's a stressful time when your wife is wondering where she'll be changing the new baby's nappy," he admitted.
A qualified vet, he plans to go back to that on at least a part-time basis when he quits playing, but that's not even under consideration just yet.
"Right now I'm not going to even think about the World Cup, I just want to concentrate fully on the 6 Nations," he stressed.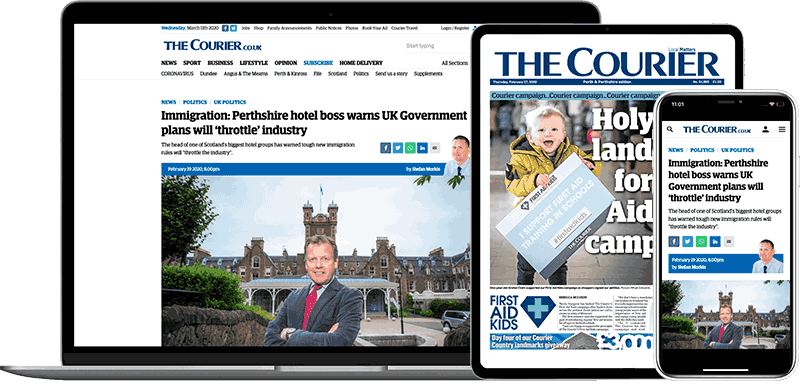 Help support quality local journalism … become a digital subscriber to The Courier
For as little as £5.99 a month you can access all of our content, including Premium articles.
Subscribe