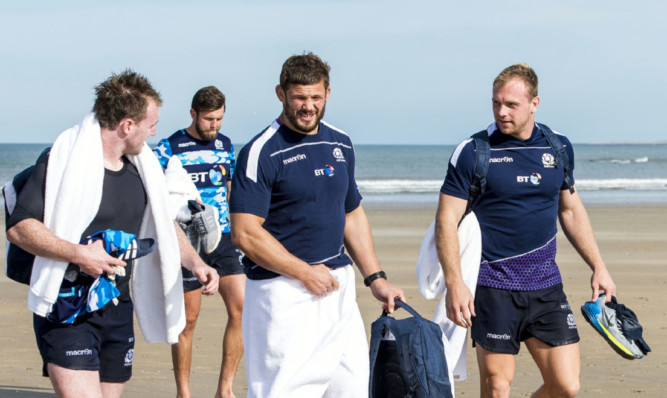 Ross Ford says it's no use looking at stern Vern Cotter in training for clues to Scotland's World Cup squad.
The veteran hooker, looking to make his third World Cup and returning to starting action against Italy at Murrayfield this Saturday, says studying the head coach's expression is fruitless for the players and instead it's "treat every session like it's you last".
"He doesn't give much away, it's very hard to know what he's thinking," said Ford. "You don't get any hints from Vern at all. It's best just to keep your head down and keep working away.
"If he wants to speak to you then he'll find you but most of the time you've got to be on your toes, and that's a good thing.
"The squad's still not been named and that's the environment we're in, we're under pressure in training. You never get any of these training sessions back so you've got to be constantly improving, as Vern says, making a shift with attitude and the way we do things."
Yet Ford is part of an Edinburgh front row that stabilised a shifting scrum in Turin at the weekend, prompting his club coach Alan Solomons, in a rare comment on Scotland matters, to say he'd be "shocked to his boots" if they weren't the first choice for the World Cup.
Ford, Alasdair Dickinson and WP Nel do have an advantage, as Ford points out, of knowing each other inside out.
"We have played a lot of rugby together so we knowing how each other work and the set-up that's required," he agreed.
"It's a tough ask for some boys to be thrown into a game situation like that and not having seasons together to understand how one another work. We're working at that in training this week again so that everyone's well-versed in what's expected and I think the scrum'll be alright this week.
"Dicko, WP and myself play 70 minutes week-in and week-out with each other, against everybody. So we almost instinctively know what to do against different opposition. We feel what's happening in the scrum and react to it quite well."
He has no doubts that Nel, who made his debut on Saturday as a replacement after completing his three-year residency, is up to the task of international rugby.
"He's really good to scrum with, so aggressive, he wants to go forward all the time which makes my job a lot easier, while around the pitch he throws himself about.
"He brought his family across here and made the statement by doing that that he was committed, so it was really good to see him get that first cap and get a start now. I think he's deserved it."
Ford has seen it all in World Cup preparation the famous conditioning drive to bulk up before 2007, Andy Robinson's method in 2011 but he thinks this year has been the most nuanced.
"Pre-season's always hard. But this year's been good, we've done a lot more skills and such, right from the off," he pointed out.
"We've worked at them under fatigue and I think that's helped us, it's the only way you can really test yourself. It's okay doing skills in closed session when there's no fatigue involved but when you're breathing hard and trying to make decisions under stress it's much better preparation.
"I think that's helped us in the last couple of games, we've been under the gun, been really going hard at the end but been able to make really good decisions."
But with one win in the bag against Italy last weekend,it's time to make a real positive statement in front of Scotland's own fans at BT Murrayfield, believes Ford.
"Dublin we played some good rugby, Italy was a far different game, we didn't have a great start or the dominance we really wanted but the character to keep going at it showed in the win in the end," he continued.
"It's important to have that momentum moving forward. There is a short turnaround in games at the World Cup so if we need to make small changes then it could make all the difference.
"That's the opportunity we have this week, it's the chance for us to make another statement. We didn't play phenomenally well in Italy so we will make some changes this week in our application and attitude to make sure we keep moving forward in the right direction.
"It was good to pick up a win but we are under no illusions that we need to strive to get better."