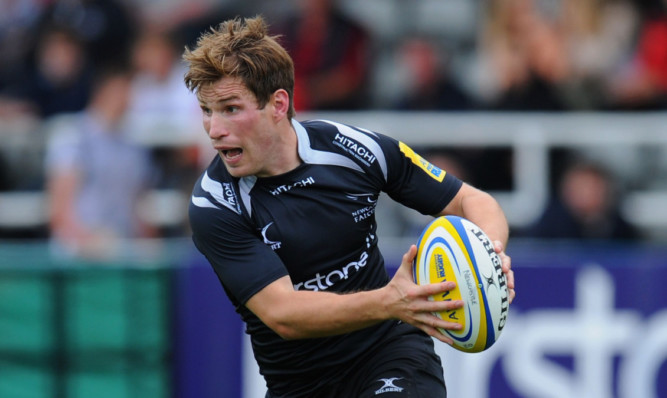 Two prominent former Scotland internationalists have been recruited by Dundee High School to put sport at the forefront of the school's curriculum.
Linda Clement, Scotland's most capped hockey player, and Phil Godman, the former Scotland rugby stand-off, have joined the school's staff as head of hockey and rugby respectively.
It's a major coup by the school to have secured the services of two such distinguished athletes and underlines the determination of rector Dr John Halliday to put sport at the heart of the the school's ethos.
"I'm incredibly enthusiastic about sport myself and what it provides for our pupils and young people in general," said Dr Halliday. "We've had a large degree of success in both sports recently and this move to bring in Linda and Phil will ensure that we continue to be competitive while developing in these sports going forward."
Clement won 241 caps for Scotland, including appearances at four Commonwealth Games, scoring 61 goals and was captain over 100 times. She is already in post and will be teaching PE from P1 to S6.
A long-time member of the Grove Menzieshill hockey club in Dundee, she joins the school from George Watson's College.
Godman was capped 23 times for Scotland scoring 71 points while playing for Edinburgh Rugby for eight years. He joins the school from the Newcastle Falcons on June 1, specialising in rugby but also working in the general sports development of pupils.
Godman's appointment comes just before a new reorganisation of Scottish schools rugby is revealed by the SRU, in which former Scotland coach and High School pupil Frank Hadden was heavily involved. Hadden and Godman were also closely connected during their years at Merchiston Castle School, Edinburgh Rugby and with Scotland.
"I've been so fortunate in my career to have played under some people who were great coaches but also great teachers themselves," said Godman. "There's Frank of course, but there was also Rob Moffat and Andy Robinson at Edinburgh, and they were schoolteachers before they were rugby coaches.
"I'm really looking forward to putting some of the things I've learned and my own ideas into practice, and just working with as many kids as possible showing them the benefits of being involved rugby that I've enjoyed in my career."
The High School's first XV have appeared in two national finals in the last two years, but the school has never had a designated Head of Rugby. Godman's appointment is clearly a high-profile move in an increasingly competitive field with rugby being a big recruitment tool for big private schools with some impressive levels of investment, at schools such as Watsons, Merchiston and Strathallan School.
A girls' rugby team may be established as a result of Godman's arrival, but Clement will be working immediately with both boys and girls as Head of Hockey.
She will join current Scotland player Vikki Bunce on the school's PE staff and having trained with Scotland at the High School grounds several times, is already accustomed to her new surroundings.
"I'm really looking forward to getting started on helping to develop further the numbers of pupils playing hockey and on helping each player to reach their full potential," she said.
"I have played on a lot of hockey pitches throughout my career but the new all-weather surfaces at Dalnacraig are some of the best I have come across," she said.
"You will struggle to find better facilities and it's a real privilege for the pupils and staff to be able to use them on a daily basis," she added.