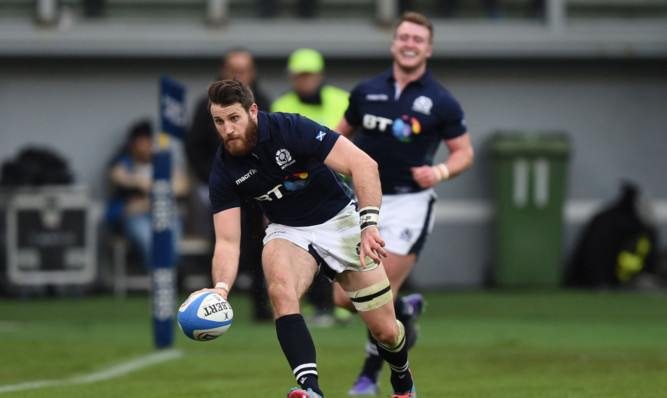 Scotland properly celebrated finally breaking their nine-match losing run in the Six Nations in Rome on Saturday night, but Vern Cotter believes the vital part is building on the win over Italy.
Cotter is a hard taskmaster but gave his squad a little leeway in the wake of the 36-20 victory in the Stadio Olimpico, reasoning that "it's been a long time between drinks".
But when the squad reconvenes during this coming bye week in the championship, the focus moves to France and not getting ahead of themselves.
"Nothing is a given," he said. "We're not going to think about this as some great release and Scotland are going to win every game for the next 20 years, that is not going to happen.
"Winning only comes through hard work and believing. And I think we can play better than we did today.
"There are things we can improve on and the players can see that too."
So while the coach would allow himself "a quiet couple of drinks" at the post match function and the squad and coaches would enjoy the evening, the huge French team coming to Murrayfield a week on Sunday were coming to the forefront of their minds.
"I am pleased to see the players win, I believe in what they are trying to achieve and the spirit ogf togetherness they have," he continued. "But it will not take away from the assessment we need to move forward tomorrow.
"France bring us other things to adapt to. There's going to be a different atmosphere at training this week; not complacency, just a desire to keep moving forward."
Cotter did single out two of his younger players who have taken on leadership roles for particular praise.
"Stuart Hogg is still really developing," he continued. "He has great qualities as a rugby player, both technically and tactically but also as a leader and decision maker within the group.
"He is still a young man, and so is Jonny Gray. I am really happy for them and we will just keep trying to repeat those good things and develop other ones."
Captain and man of the match Greig Laidlaw said he "saw in the players' eyes" that they were going to win the game, and clinching try-scorer Tommy Seymour agreed.
"Yes, I think I did; this team has been desperate for a win in this competition for a while. We had said that playing well isn't enough. It's about results, that's what drives this business.
"It was really pleasing that we could get the monkey off our back and can now drive on from here. Going into the last two games, this team has a lot of confidence. Leading on against France, hopefully we can go back home and get a result there as well."
Seymour bagged his 13th try in just 25 caps, and his seventh in his last eight games but was full of praise for the man who dropped it on a plate to him, Hogg.
"Hoggy is having a great campaign," he continued. "When he is on song is probably one of the best in the world at what he does.
"We get a lot of delight from seeing him playing strongly, and I obviously have a lot to thank him for today.
"I kind of sensed that was what he was going to do. He does that a lot in training. He is very good at getting on the outside and putting it away. It's just a matter of getting on his shoulder and reaping the benefits."
The Scots were feeling the effort in the Stadio Olimpico changing room after the game but there are no serious injuries coming out of the game.
David Denton, pulled from the team at the eleventh hour due to a groin problem, is being assessed. Ryan Wilson was promoted to the starting team and performed well, while Josh Strauss who had played 76 minute for Glasgow less than 48 hours previously came on as a replacement for the final ten minutes.