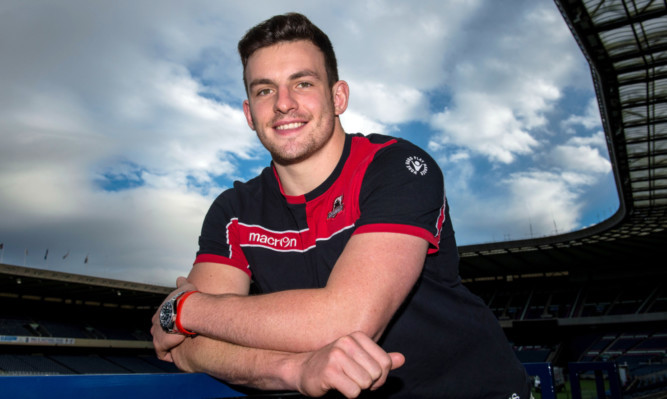 Matt Scott believes Edinburgh have the strength in depth all over the team to play the more expansive style they'll need to thrive in both the Guinness PRO12 and in Europe.
The Scotland centre is one of four World Cup players who return to action for the capital club tonight at BT Murrayfield against Munster, with the first-choice front row of Alasdair Dickinson, Ross Ford and WP Nel also back in harness for their club.
But having played in all Scotland's games but for the quarter-final because of a nagging back injury, Scott is ready to team up with a few new faces and move Edinburgh's gameplan on from the staple of forward-orientated control that has been their trademark in recent seasons.
"I think it is massively important we widen our game," said Scott, pointing out that Edinburgh showed growing signs of this towards the end of last season.
"Watching the World Cup, South Africa are probably the team that play such a power-dominated game, and they can get away with it through the sheer physicality of the team, but I think we at Edinburgh have strengths in other areas and we need to utilise them.
"Alan (Solomons) has said to us that this is the next stage. We've got the foundation, one of the best packs in the league with one of the best front rows in Europe and phenomenal depth in our back row.
"We need to move our game on and we have guys like Nasi Manu who are really good with ball in hand, guys who can play that style, as Alan says, it's the next step for us.
"Duncan Hodge coming on board (from the Scotland set-up as assistant coach) is going to be really good for us, he is going to be pushing us to vary our play a bit more.
"At the World Cup you saw teams playing off forward pods, not just off nine the whole time. If the best teams in the world are doing it, it must tell you something."
Scott is teaming up with Will Nemu in midfield for the first time but is especially impressed with teenage full back Blair Kinghorn, who retains his position after his first start against Connacht last week.
"I can't believe he is just 18," he said. "When I was his age I was nowhere near ready to play professional rugby.
"He has done exceptionally well. I played a good two or three years with Currie and I had played British and Irish Cup, so I had a decent amount of senior rugby under my belt when I came in. But he has just come straight from school to this level and has been really impressive.
"He's very composed, I've been impressed with the way he has taken it all in stride. He will get better and better I'm sure."
Head coach Solomons will expect his internationals to come back seamlessly, but he's holding back John Hardie for a couple more weeks.
"It's just too early for John, he literally just got in this week and has never worked with us before. He doesn't know any of the systems or structures so to put him straight in wouldn't be fair.
"I chatted to John, we talked about a strategy. He'll play, there's no question, he performed so well in the World Cup, but we'll take it on a week by week basis."
Edinburgh are short of second rows with Grant Gilchrist still out until later this month, Ben Toolis absent until January and Fraser McKenzie banned for two matches. David Denton will be re-introduced to action gradually as the team start their European campaign next week.
Edinburgh team (vs Munster, Guinness PRO12, BT Murrayfield, ko 5.15 pm, live on Sky Sports): B Kinghorn; D Hoyland, W Helu, M Scott, T Brown; G Tonks, S Hidalgo-Clyne; A Dickinson, R Ford, W P Nel; A Bresler, A Toolis; M Coman (acpt), H Watson, C Du Preez.
Replacements: N Cochrane, R Sutherland, J Andress, R Grant, N Manu, S Kennedy, A Strauss, D Fife.