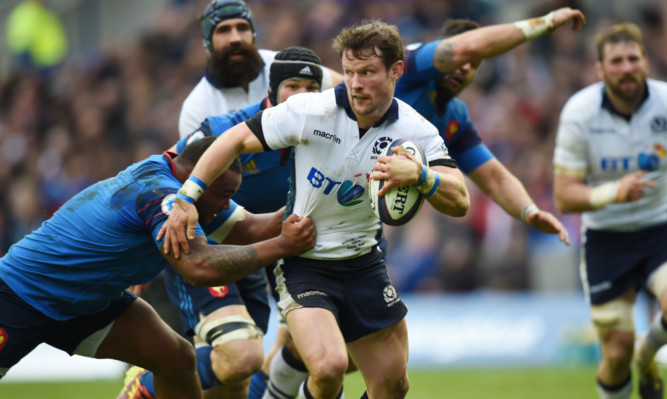 Greig Laidlaw will have no qualms teaming up with Peter Horne again in Dublin should Finn Russell prove to be another casualty from Sunday's outstanding victory over France.
Russell's concussion just five minutes into the French match had worried the Scots, said the skipper, but Horne's performance slotting in had been "outstanding".
Russell is undergoing return-to-play protocols and was not ruled out yesterday alongside Jonny Gray (pectoral muscle tear) and David Denton (groin). There's a chance that Saturday's starter could make kick-off if there are no recovery setbacks but it seems Horne will be the choice should he not make it.
"Going on Sunday's evidence, I wouldn't be worried about Peter starting again if he had to," said the captain. "I thought he was outstanding, and all credit to him for coming on and adapting so well, because he hasn't played a lot of his rugby at 10.
"It's never good to see your playmaker go off, especially when you prepare all week on the basis that he'll be there. So it was a blow to lose Finn and we all thought losing him was going to make things tough.
"But it says a lot about Peter that it didn't really make a difference to us. He did brilliantly, he was calm, he stuck to the game plan he had obviously done his work throughout the week and there was no disruption to us at all."
Horne did start one game at 10 before, against Italy last year, but Laidlaw agreed that playing Russell's game – flatter and on the gain line helped him.
"Pete was certainly effective. He will be learning as a player, he's another year down the track, a year older and with more experience, and that probably helps as well.
"We know we've got good options in that position now. That's probably for the first time in years, that we're starting to get options around the squad, be it at 10 or in the centre, wherever.
"It's becoming a strong squad and you need that in international rugby. We're starting to build depth for the first time in a while."
There's a satisfaction in the squad at fulfilling what they had promised for so long, but now a desire to take it further, he continued.
"We always felt where were nearly there, and we delivered on the weekend," he said.
"Now we need that consistency so that we get that performance every time we take the field.
"It was great to win at home, but we can do it away from home, there's no reason why we can't. It's the same size field with posts at either end.
"Ireland is a different challenge, but a second away win in the Championship, that would be outstanding."
With a six-day turnaround Scotland will have a light training week physically, but not mentally, said the skipper.
"It's just a fact we have to deal with," he said in reference to having just one full training session ahead of the game. "But we can put a lot of work in off the field.
"The coaches and myself will be putting pressure on the players to do that, to look at videos and study the opposition, so that we know our game plan going into the weekend."
Ireland will be tough on their home patch, especially with the confidence gained from their rout of a clearly demotivated Italy.
"We need to respect what Ireland did against Italy," said Laidlaw. "Whether Italy turned up and put their best foot forward, I can't answer that, but we need to respect the manner of their performance and result.
"We'll also look at their previous games in the Championship, see where they've been under pressure, see if we can spot any traits that we might use. We'll leave no stone unturned in terms of preparation."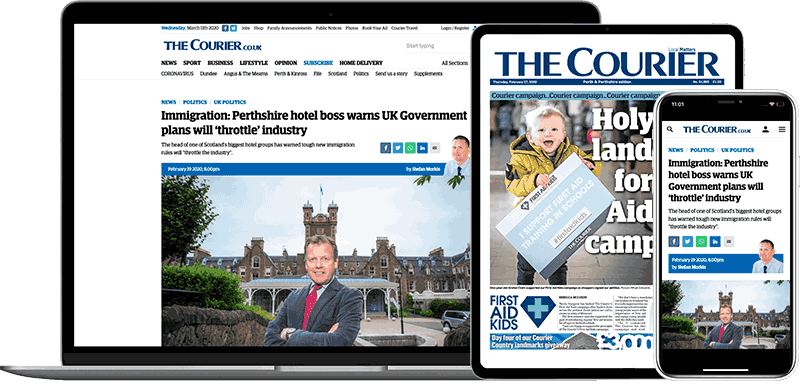 Help support quality local journalism … become a digital subscriber to The Courier
For as little as £5.99 a month you can access all of our content, including Premium articles.
Subscribe