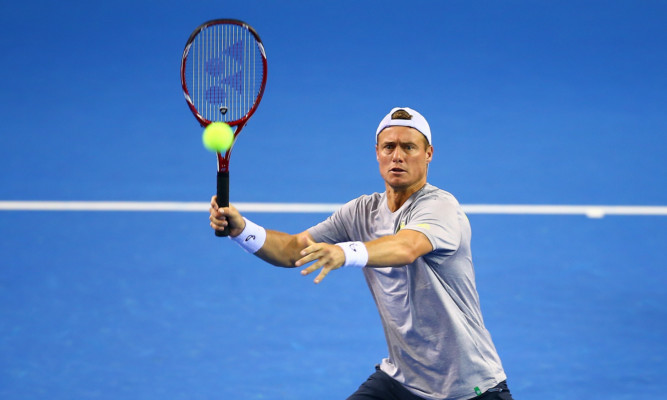 All the pressure is on Andy Murray in Britain's Davis Cup semi-final with Australia, according to opponent Lleyton Hewitt.
The teams meet in Glasgow this weekend, with the British side playing at this stage of the team competition for the first time in 34 years.
World number three Murray played three matches in as many days as Britain defeated France in July and he may do the same against Australia.
Veteran Hewitt, who is to retire after the Australian Open in January, said he has a "great relationship" with Murray but believes the weight of expectation is on the Scot.
"I think a lot of the pressure is on, obviously, Andy so whoever gets the opportunity to take him on on day one has got nothing to lose, you can go out free swinging and play your game," Hewitt said.
"I think Andy pretty much has got to win that match in a lot of ways so it's going to be a bigger rubber for them, I think, and these young boys are big match players as well.
"Grothy (Sam Groth) and I teamed really well under massive pressure in Darwin in July so we're going to be ready for the battle all weekend.
"We're going to try and come up with the best team play to win three out of the five matches."
The 34-year-old added: "I have a great relationship with Andy, I know that he's been massive for the sport of tennis right across Great Britain and obviously the support that he gets coming back here to play in Scotland, he's very proud to be Scottish.
"We have a great rivalry with Great Britain and this is hopefully just another chapter."
The Australian team is made up of Hewitt, Groth, Thanasi Kokkinakis and Bernard Tomic, who returns to the team after being dropped in July for criticising Tennis Australia.
Captain Wally Masur believes he has good variety in his team and has prepared a plan to take on Murray.
He said: "We've got all the respect in the world for him but we look at every match as an opportunity, there's no doubt about that.
"If Andy is going to play three days that's part and parcel of Davis Cup. This guy (Hewitt) has done it on numerous occasions and I know what he went through to prepare himself to do that, it's not easy and it's definitely part of our focus."
Most of the Australian team are in Scotland for the first time and 19-year Kokkinakis enjoyed trying haggis.
He said: "It's better than I thought.
"It didn't look great served on my plate, I was like, 'what is this?'
"(Tomic) didn't take too kindly to it but each to their own.
"Haggis? I'd give it a seven. I've had better and I've had worse, better than I expected."