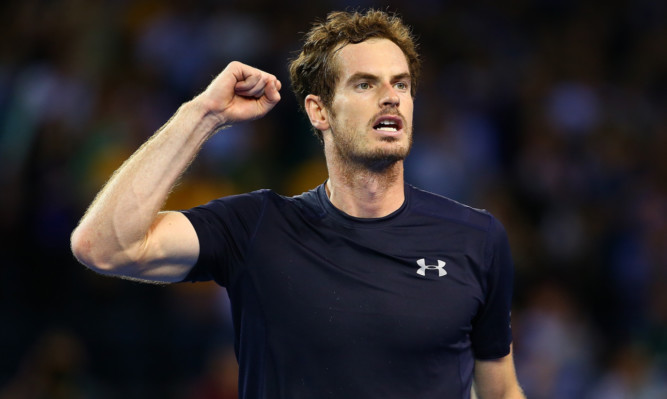 Scottish sport followers aren't accustomed to this sort of treatment.
Our heroes are supposed to put us through the wringer.
Sure, they might tease for a while, a la Gordon Strachan's footballers against the world champions a couple of weeks ago. But, even if they had produced the impossible and beaten Germany, it would have been an ordeal. It's always an ordeal.
There will be more anguish over the next few weeks in the rugby, no doubt. The Six Nations is forever tortuous so why should a World Cup follow an unfamiliar script.
Andy Murray is different, though. So typically Scottish in personality and demeanour off court, he is anything but typically Scottish when he steps on to it.
From the moment he arrived to tumultuous applause with a clenched fist for his adoring fans, to the moment he left with arm raised again, this was a world class sportsman at the top of his game, utterly in control of his destiny.
It was a Murray masterclass and a stress-free mid-afternoon for 8,000 fellow Scots packed into the Emirates Arena.
His tennis in this straight sets win over Thanasi Kokkinakis was perfection. He wasn't even troubled by a break point.
Actually, perfection isn't strictly true. There was a Kokkinakis serve he challenged at one point that landed flush in the middle of the line. Really Andy. Tut tut. We expect better from you.
Murray was able to ease himself into the contest. An opening service game to love set the tone.
No such luxury was afforded to Kokkinakis on his first game with ball in hand. A double fault took it to deuce and on break point, successive lets on his second serve turned up the pressure. Kokkinakis didn't succumb to it though, a stop volley saving him, and he eventually held to level at 1-1.
As Murray continued along his merry break point-free way, Kokkinakis couldn't get through a game without having to negotiate them.
He came back from 15-40 to make it 2-2 but, after levelling at deuce from the same deficit on his next serve, failed on the third break point and Murray had his breathing space.
A 4-2 lead swiftly became 5-2, and the first set was eventually wrapped up 6-3 with an ace.
If there had been a slight element of doubt about who would emerge with the first set to their name, there was none in the second.
From the moment Murray broke in the first game to love, showcasing his full repertoire including an audacious backhand lob, it was brutally one-sided.
Two more breaks and three comfortable holds dotted the Is and crossed the Ts on a 6-0 whitewash.
Kokkinakis is thought to be a top five in the world prospect more talented than his over-hyped compatriot Nick Kyrgios but Murray made those sort of career aspirations seem cloud high. The only point he won in the last three games was from a double fault by his opponent.
The 19-year-old momentarily stopped the bleeding by putting the first game of the third set on the board but Murray broke him next time up.
It was the Australian being forced to chase round every part of the blue and white court but even when he had Murray on the back foot, he found it a soul-destroying experience.
On one point in the fifth game he forced Murray further and further back on his forehand side but every time the dogged Dunblane man was able to retrieve and when an error came, it was off the Kokkinakis racket.
Murray didn't have any great need for another break of serve. But he got one. And it sealed the match.
With Kokkinakis on his second serve at matchpoint, it wouldn't have been fitting if a double-fault was the last act and, to the home support's satisfaction, the teenager did his bit by finding the service box and Murray did his with a crisp backhand cross-court winner.
The 6-0 second set "wasn't good for my ego" Kokkinakis admitted. But he was able to put his or more pertinently, Murray's performance into context.
"It was lights out today," he said.
"We've practiced together a lot of times and I can say that's the best he's ever played against me by a mile. He was able to do what he wanted. There's not many players in the world who would go close to him when he plays like that."
There was also self-awareness from Murray. The individual achievements at Wimbledon and Flushing Meadows have secured his legacy, but afternoons such as this in a team uniform have brought out tennis every bit as good, if not better.
"I don't know why I play better when I play for my country," he reflected. "But I have.
"Not just the Davis Cup but the Olympics as well would have been some of the best matches I've played, in terms of my levels. I don't know exactly why that is. But I just think my results speak for themselves."
Scotland don't do sporting certainties, but Andy Murray in the Davis Cup singles is a glorious exception.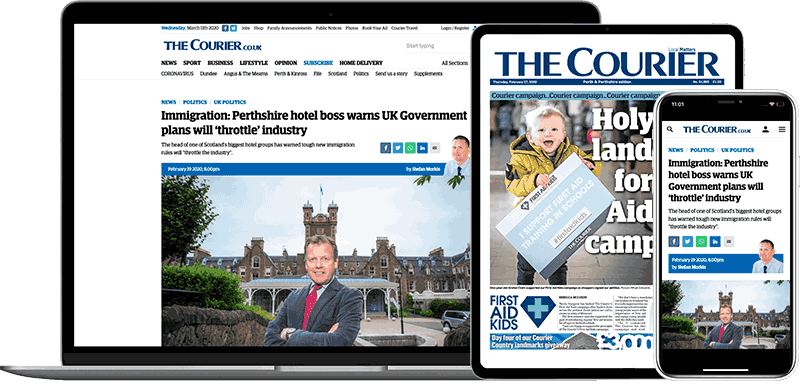 Help support quality local journalism … become a digital subscriber to The Courier
For as little as £5.99 a month you can access all of our content, including Premium articles.
Subscribe