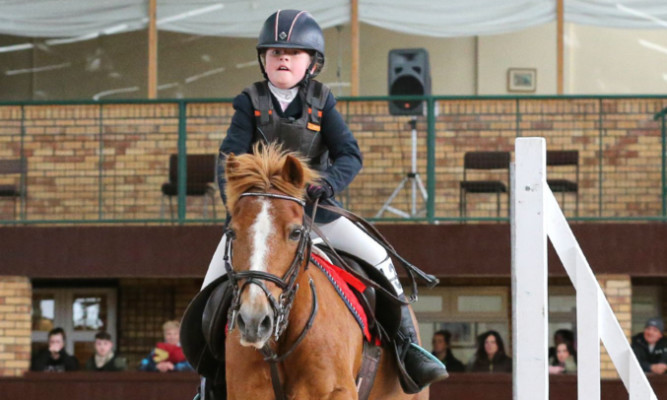 During the official launch weekend at Highfield at Howe, riders were provided with the opportunity to test the 'bounce and spring' of the new international arena surface with a well-supported showjumping contest.
Dominating the leaderboard across the lower height classes was Lucy Watson, from Dunfermline.
Following in the hoofprints of her idol Ellen Whitaker, Lucy rides the pint-sized 12.2hh Irish JA pony Ginger which was previously part of the Whitaker family and is responsible for teaching Ellen, William and George Whitaker how to jump.
Despite being the youngest competitors in the classes, the seven-year-old Aberdour Primary pupil has proved her determination to get to the top of the game by winning three firsts and three second prizes with Ginger from their last three outings.
At Highfield at Howe, the partnership topped the leaderboard in the 55cm class and also took a second from the class after.
Lucy who is "totally horse daft" has owned 22-year-old Ginger also known at the Little Gingerbread Man for the last two years.
"He is the love of Lucy's life and the most perfect little pony," said Lucy's mother Lesley, who helps to train her.
Lucy, a farmer's daughter who has ridden ponies since she was just three, may have inherited her competitive sporting edge from her mother who also competes at showjumping and her grandfather Bert Paton, the former footballer who also managed Dunfermline.
One of Lucy's biggest rivals is her eight-year-old cousin Darcey Whitfield.
Darcey prevailed with her pony Dingo in both the cross poles and 45cm classes and in doing so pipped Lucy into second position in the latter on her new pony 13hh skewbald Dennis.
Up the heights, recent Gleneagles Hunter Trials winners Hannah Aitken and Maydown Star topped the 85cm class.
The 90cm win went to Courtney Valentine and Promise.
Taking second place in this class, but progressing to win the 1m contest, was Fife Riding Club committee member Callum Glasgow from Kirkcaldy.
Callum took the win on his own 15-year-old Irish Sports Horse Fleur d'Eclipse.
The mare by Autumn Snowman, which was bred by Callum's aunt Jane Yule, from Huntly, has been with Callum since she was a six-year-old and they compete regularly at affiliated and unaffiliated competitions.
Most notable of their successes this season was at the Area 22 qualifiers, which granted them passage to compete at the British Riding Club Championships representing Fife RC.
Callum, who trains with Robert Snaddon for his jumping and Diana Zadja for flatwork, has jumped competitively for a number of years and has wracked up placings up to Newcomers and 1m10 level.
"It's great to have the centre at Howe reopened," said Callum, who added that it was an "ideal show" to bring him back to competition following a short break.
"The competition was tough, with some good fellow competitors, and I hope that riders continue to support the centre as we can't afford to lose it again from the area," he added.
equestrian@thecourier.co.uk Results
Cross poles: 1 Darcey Whitfield, Dingo; 2 Kerry Anna Strachan, Kenzie; 3 Rebecca Hooley, Barney. 45cm: 1 Darcey Whitfield, Dingo; 2 Lucy Watson, Dennis; 3 Beth McCrichard, Pippin. 55cm: 1 Lucy Watson, Ginger; 2 Cheryl Aitken, Sherrecco; 3 Jesika Ronnie, Cheval Summertime. 65cm: 1 Cheryl Aitken, Sherrecco; 2 Lucy Watson, Ginger; 3 Anna Dalgish, Dunny. 75cm: 1 Rachel Leavey, Bamalama Ding Dong; 2 Anna Dalglish, Dunny; 3 Debbie Wheelans, Kalemino. 85cm: 1 Hannah Aitken, Maydown Star; 2 Rebecca Ramsey, Promise; 3 Sharon Elgood, Zarathon. 90cm: 1 Courtney Valentine, Promise; 2 Callum Glasgow, Fleur D'Eclipse; 3 Emily Waterston, Carena. 1m: 1 Callum Glasgow, Fleur D'Eclipse; 2 Debbie McGregor, Mega Jackpot; 3 Emma Lawrie, Bailey.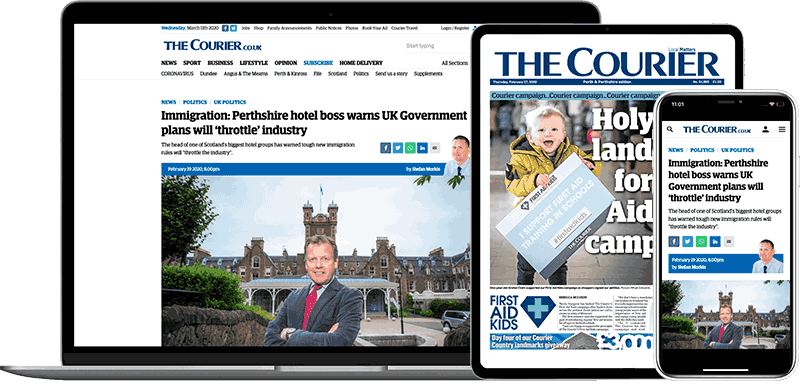 Help support quality local journalism … become a digital subscriber to The Courier
For as little as £5.99 a month you can access all of our content, including Premium articles.
Subscribe