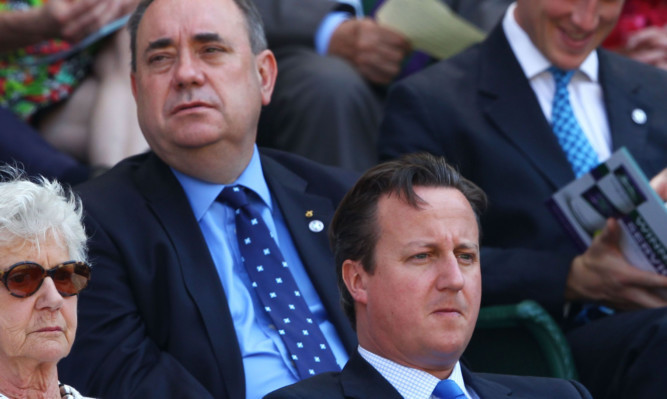 Alex Salmond, nemesis of the Westminster political establishment, serving as a UK Cabinet minister?
It sounds incredible but if the SNP wins a "barrowload" of MPs, as he predicts, anything could happen.
The former First Minister seemed uncomfortable at the suggestion that there could be a seat at a Cabinet table for him in the heart of what has been the "enemy camp" for years.
He seemed even more uncomfortable when asked if he sees himself returning to the Commons as SNP leader replacing his old friend and colleague Angus Robertson.
He appeared uncertain at first at how to respond, but quickly recovered.
* Read the second instalment of Alex Salmond's interview only in Friday's Courier
He said that the prospect of him becoming SNP leader again in Westminster is not something that's been discussed between him, SNP leader Nicola Sturgeon or Mr Robertson.
"In terms of being Westminster leader, I'm perfectly happy not being leader, " he said. "I was an MP at Westminster for 23 years in which time I was deputy leader of the SNP and leader of the SNP.
"The SNP now have an excellent (Westminster) leader in Angus Robertson and I have known Angus since he helped me win Banff and Buchan in 1987. So, it's not important."
And he brushed aside suggestions of a Cabinet post for him in a formal Westminster coalition involving the SNP after the general election, if he wins Gordon.
"A formal coalition would be unlikely, but Nicola Sturgeon is not ruling it out and she's right not to rule it out," he conceded.
So, a formal coalition, maybe to keep the Tories out, is not beyond a possibility?
"It would be using our influence to secure gains for Scotland. We can either be in this opportunity that beckons for us, in a position of no influence or a position of substantial influence. I think being in a position of substantial influence is better.
"As I said, I've been in a position, when I was a young MP, of having three MPs in a Parliament of 650, facing a majority of over 100. That is a position of less influence. Being part of a strong block of SNP MPs in a balanced Parliament would be a substantial influence.
"Well, what are the range of possibilities? You can have a formal coalition, you can have a confidence and supply arrangement, you can have a vote-by-vote bargain."
Mr Salmond smiled broadly as he predicted a "barrowload" of SNP MPs after the general election. "Whether it's a small wheelbarrow or a big wheelbarrow will depend on the Scottish people. Right now it looks pretty big.
"Nicola Sturgeon has laid this out very clearly and that is we will not do a deal with the Conservative Party in any shape or form, formal or informal under any circumstances."
But his expression darkened as he recalled those painful hours after the referendum. What he perceived as the sickening sight of David Cameron outside Number 10 remains a source of bitterness.
"The SNP cannot forgive David Cameron for waltzing out of Downing Street the morning after the referendum, and suddenly announcing that progress in Scotland was to go in tandem with changes in England, " he said. "Nothing of that had been mentioned in the referendum campaign. And it's that breach of faith, that total exposure of the bad faith which rules the Conservative Party which rules it out.
"He can't treat Scotland with contempt and expect Scotland to treat him with respect."
Mr Salmond's eyes lit up at the prospect of a "gamekeeper-turned-poacher" role.
"I ran a minority government between 2007 and 2011. And the great thing about being on the receiving end is that it teaches you a lot about who in the opposition was most successful in pursuing their objectives."
Mr Salmond rejected a suggestion that he could be seen as "propping up" a Miliband coalition.
"You say 'prop up'. We would act in the agenda which I just spelt out that's the agenda for getting for Scotland what we were promised, to pursue causes like the living wage, not renew Trident, etc. And to secure for Scotland the recognition we are due."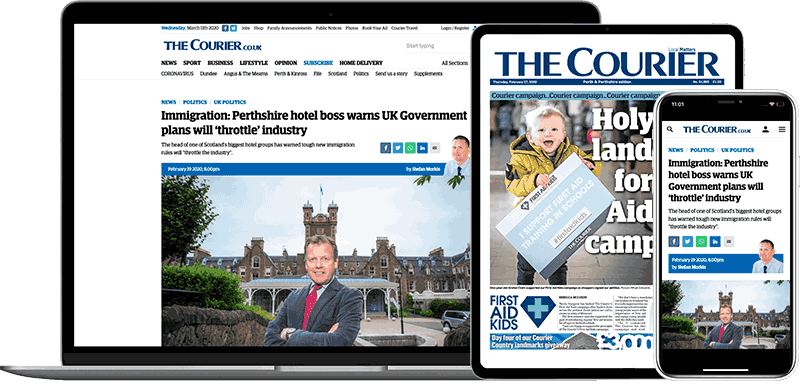 Support The Courier today.
The Courier is committed to delivering quality content to our communities and right now that's more important than ever — which is why our key content is free. However, you can support us and access premium content by subscribing to The Courier from just £5.99 a month. Because Local Matters.
Subscribe