 Thirty "hardy" horse and rider combinations attended Fife Riding Club's first open winter dressage event on a bright but chilly day at the club's field near Glenrothes.
Taking a double of wins across both the Novice 34 and Elementary 43 tests, and achieving the highest mark of the day was regular Fife competitor Steven Monaghan. He topped the podium of the former of his two classes with a score of 74.8% on board Master at Arms II.
Steven and 'Oliver' have been regular supporters of the Fife RC competitions since their partnership was forged two years ago.
The nine-year-old son of Reidinger came to Steven having been successful in the show ring qualifying for HOYS and being placed in Birmingham as a show hunter in his seven-year-old season but has since made good his transition to affiliated BD.
Amassing 62 points on limited outings to SNEC, West Kype and Inchcoonans over the 2013 and '14 seasons, in partnership with both Steven and rider and trainer Alwyn Mclain, Oliver has now competed to Novice level BD and unaffiliated Elementary. He has qualified for the BD winter regionals at open Novice level and Steven aims to affiliate at elementary level in the spring.
Pipped in the Novice 34 class by only half a mark and 0.5 of a percentage, but taking the win from the earlier Novice 28 class was event rider and instructor Elisabeth Leslie and her horse Crimescene.
This seven-year-old gelding, by the Hannoverian jump stallion For Pleasure, has been with Elisabeth since last spring.
She said due to his size he has been brought on slowly.
"This has allowed his frame to mature and this was his first competition riding two novice tests," she said.
Crimescene heads to his affiliated debut later this month, with plenty scope to rise up the dressage grades. In the earlier prelim tests event rider Amy Farrow took the prelim 13 test win with her grey event mare Roxy, adding this to a second placing from section B of the prelim 12 class entry.
In this arena Amy's score was bettered by Scottish Diabetes Research network manager Shona Brearley and her Gypsy cob SD Rockstar.
Shona only began competing at affiliated dressage with the spotted gelding, known at home as Rocky, last summer. Travelling north to the Cabin and Ladyleys and locally to Inchcoonans has brought the reward of numerous placings and qualification for the PetPlan areas and Scottish Dressage Championships at prelim level.
"I bought him from the Fife RC social media page as a bit of an impulse buy, as a newly backed 14hh three-year-old," said Shona of the rising seven-year-old, sired by SD the Rocking Horse.
"We are having great fun together," she added, having tried their hand at jumping, TREC and endurance and enjoying training from Catherine Eardley, Kay Gebbie and Vicky Flynn.
"They have all been a great help," Shona added.
So large was the entry for this prelim 12 competition, the class was split into two.
Taking a win alongside Shona was Larisa Cathro and her event horse Storm.
The competition was adjudicated by Judy Taylor and Heather Carstairs.
equestrian@thecourier.co.ukResultsIntro B: 1 Jennifer Roy, Crabbiesden Peregrin Falcon, 68.5; 2 Savanna Girvan, Romy, 67.6; 3 Allyson Black, LifeGirl, 66.5.Prelim 12 (section A): 1 Larisa Cathro, Storm, 71.6; 2 Sarah Hutchison, Beltrum, 68.8; 3 Audrey Nairns, Billie, 66.4.Prelim 12 (section B): 1 Shona Brearley, SD Rockstar, 65.2; 2 Amy Farrow, Roxy, 64.1; 3 Pamela Rutherford, Carrie, 63.4.Prelim 13: 1 Amy Farrow, Roxy 72; 2 Larisa Cathro, Storm, 67.5; 3 Sarah Hutchison, Beltrum, 67.3.Novice 28: 1 Elisabeth Leslie, Crimescene 67.5; 2 Joy Clark, Penhalogen Stardust, 67.1.Novice 34: 1 Steven Monaghan, Master at Arms II, 74.8; 2 Elisabeth Leslie, Crimescene, 74.6; 3 Laura Rennie, Medusa, 68.5.Elementary 42: 1 Steven Monaghan, Master at Arms II, 67.2; 2 Laura Rennie, Medusa, 65.6; 3 Emma Defew, Oraya, 65.2.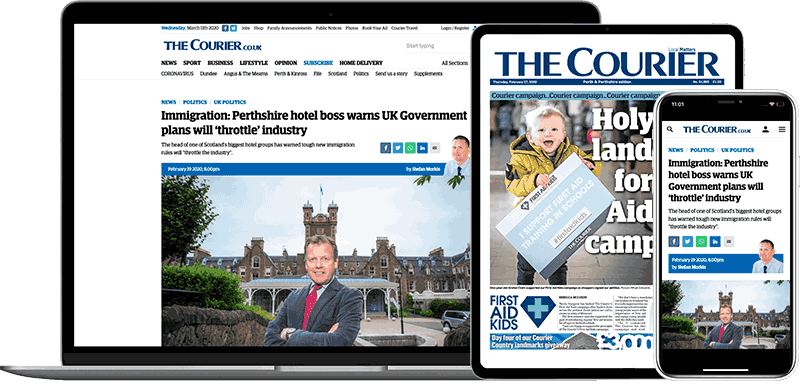 Help support quality local journalism … become a digital subscriber to The Courier
For as little as £5.99 a month you can access all of our content, including Premium articles.
Subscribe