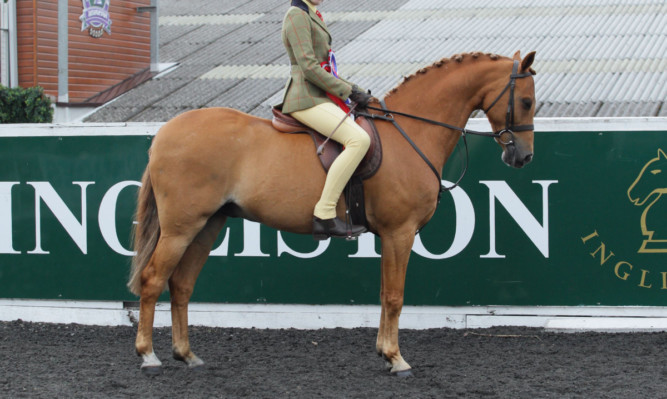 Leading Northern producer Jerome Harforth produced the Cuddy in-hand qualifier at the Scottish Horse Show, with Tiger Attack.
The two-year-old colt is by the late stallion Dolphin Supreme and out of the Cuddy finalist and champion show mare Tiger Lily, and just two days earlier won the Kellythorpe £1,000 supreme in-hand title at the North of England Show.
"It was a fabulous mover, had a lot of presence and stood out from the moment it entered the ring," said Anne Leaver, judging.
"He'll be kept as a stallion and has covered 12 mares this year," said Jerome, who produces the colt for breeders William and Joanne Moran.
They missed the show due to celebrating their 25th wedding anniversary.
Supreme on the opening day was Michaela Wood's hunter champion Temple Mill, which still shone at the end of the long first day to lift the supreme. This is Michaela's third season with the Stormhill Miller seven-year-old. They booked their Horse of the Year Show (HOYS) ticket after winning at Three Counties and also stood champion at NCPA Spring Festival to qualify for the RIHS.
Kirstine Douglas accounted for two HOYS hunter qualifiers, taking the middleweight class with Susan Carr's Primitive Dancer, a seven-year-old mare by Primitive Star. She also won the heavyweight class with Ann Dunlop's home-bred Double Trouble.
Blairgowrie's Will Murray won the non-native coloured horse HOYS qualifier and reserve champion with Cornellious Dcor.
Owned by Joanne Garnett, the six-year-old was originally sent to Joanne as a two-year-old to be produced but ending up buying him.
"It's a real team effort. Will schools him and we get him ready," said Joanne.
In the in-hand coloured horse section the championship went to Ashley Anderson's Royal Highland Show champion Freckleton's First Class.
The second day's supreme went to the intermediate champion Braeglen Masterpiece, ridden by Abigail Gresty. The Willowcroft Regal Bronze eight-year-old was purchased as a three-year-old from Scottish breeder Susan Harper. This year they were champion at the Royal Highland Show and have qualified for the RIHS.
Melanie Stanford's Highland stallion Benbreac of Croila won the in-hand M&M championship, the NPS silver medal and then collected his ridden HOYS qualifier with Mathew Lawrence riding. The seven-year-old was purchased from leading Highland pony breeder Cameron Ormiston as a two-year-old colt and this year was supreme in-hand at Royal Windsor for the second year in a row.
The Welsh section C/D championship went to Gavin Ingram's Northwick Nathaniel, a three-year-old colt by Gwellan Samson and out of Gerrig Wendy. Reserve was Katie Common with her NPS ridden champion Nantwood Solomon.
Hazel Mowat contested her first HOYS working hunter qualifier with Aliludo and jumped clear in the 133cm class to qualify and then lift the championship.
Tommy Brash won the in-hand hunter championship with the Scottish-bred Remember Rossmore.
The three-year-old was shown by Tommy's daughter Diane, who has recently backed the son of Rubin Star N.
"His dam My Morning Glory was twice first at the Dublin Horse Show," said Tommy.
"This was his fourth outing; he was champion at Kingsbarn, reserve at Ayr and second at the Highland."
Scottish breeder Jennifer Gilchrist won the M&M part-bred championship with her 10-year-old brood-mare Bradmore Swansong.
"It had the most amazing front, with a lot of presence and moved effortlessly," said judge Lady Benton Jones.