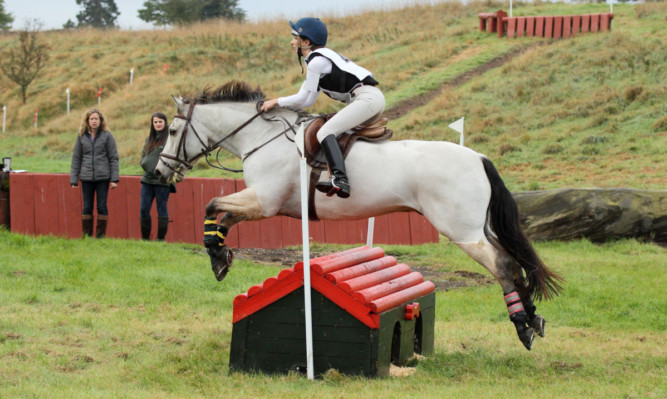 Perthshire rider Liz Fincher and her "fun" Connemara Ivor have been knocking on the door of the top prizes at many of the Central Scottish hunter trials, but they finally bagged their elusive win at Strathearn.
"He's such a dude," Liz said of the striking dun Connemara, also known as Slaney's Last or Big Gunns which topped the adult intermediate class at the competition at Bachilton, Methven.
Liz, who works for law firm McCash & Hunter, has owned the 13-year-old gelding for the last two years. He was previously imported from Ireland as a four-year-old and is the former ride of Sally Kidd, from Angus.
"Horses are very much a hobby and way of life," said Liz, who credits Ivor for taking her from never having competed to the top of his game.
"If there is one word that describes Ivor it is 'fun'."
The son of Slaney, which was bred out of Sheeba's Last and is a full Connemara, has proved highly versatile. Competing extensively with Liz throughout the last two seasons, they have won Power X and Working Hunter leagues at Inchcoonans and countless unaffiliated showjumping contests as well as collecting placings in the show ring for mountain and moorland workers at Perth and Fife shows.
In terms of hunter trials, this season they have been fourth at Gleneagles, Strathearn and Craigie.
"I always find the optimum times are very hit or miss, though, and I'm always pleased just to get a nice clear round," said Liz.
"I was delighted to win at Strathearn," she added. "The course was very technical and asked a fair few questions, but I felt ran very well. It's great that Sarah [Houlden] always changes the course to mix it up."
Ivor has also previously competed up to BE100 level and completed Kirriemuir BE90 this year with Liz, jumping clear cross country.
"I really feel over the past year we have become very close and quite a team. We both know each other so well," said Liz.
Also enjoying a great day was 14-year-old Morrisons Academy pupil Eilidh MacAulay, who recently returned 'home' to Scotland after living in Northamptonshire for the last 13 years.
She took the junior intermediate win on her own pony Jo Jo, and also took a second place in the novice class riding her mother's horse Finn.
Eilidh has owned Joey, an eight-year-old New Forest gelding, for four years.
"We have had great fun together," she said, having bought the 14hh gelding from international under-25 showjumper Jessica Dimmock, from Northampton.
"This year we have been placed at Burgie Horse Trials and Wee Burgie, picking up fourth placings each time in the BE90 class," said Eilidh.
But their most exciting success to date has been qualification for the Pony Club National Championships, in Cheshire, in the dressage arena as an individual representing Strathearn Pony Club.
"It was a fantastic weekend," she said. "I was placed second at the championships with a dressage score of 75.8%."
From little to large, Finn which she rode for her mother is 16.1 hands high. The eight-year-old gelding was imported from Ireland in 2011.
"He hasn't been out too much this summer, but he had a fantastic day at Strathearn Hunter Trials," she added.
Pipping Eilidh to the junior novice win was Laura Ralston, riding Bankeir Midnight.
The adult win for the same section went to Becky McFarlane and Nutmeg. The two adult and junior nursery novice classes were won by Rhiannon Patrick and Kimberley Chalmers respectively.
Results
Adult intermediate: 1 Liz Fincher, Ivor; 2 Yvonne Inglis, Anique Paleasi; 3 Linda Morton, Dunbog Aurora.
Junior intermediate: 1 Eilidh MacAulay, Jo Jo; 2 Iona Wilson, Shadow; 3 Jessica England, Eleanor of Aquitaine.
Adult novice: 1 Becky McFarlane, Nutmeg; 2 Hollie Cruickshank, Brackloon Gent; 3 Karen Young, Marley.
Junior novice: 1 Laura Ralston, Bankeir Midnight; 2 Eilidh MacAulay, Finn; 3 Poppy Baird, Whispering King.
Adult nursery novice: 1 Rhiannon Patrick, Dalchenna Babysham; 2 Katie Ferrier, Rock on Ruby; 3 Debbie McCullam, Spice.
Junior nursery novice: 1 Kimberley Chalmers, Kalyana Indie; 2 Georgia Laurie, Glenmorangie; 3 (equal) James Houlden, Sidan and Susie Roberts, Lucy.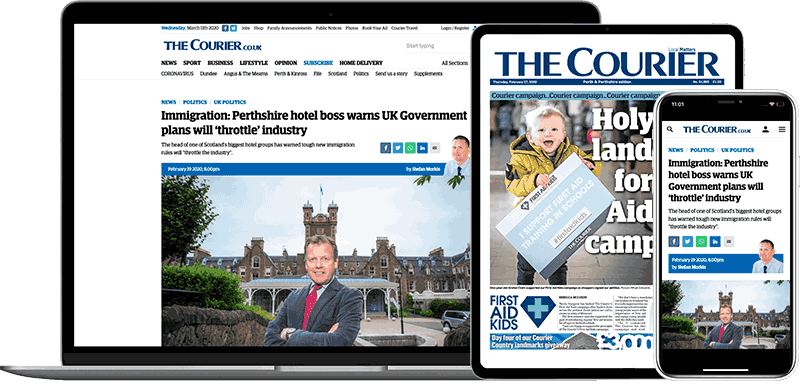 Help support quality local journalism … become a digital subscriber to The Courier
For as little as £5.99 a month you can access all of our content, including Premium articles.
Subscribe