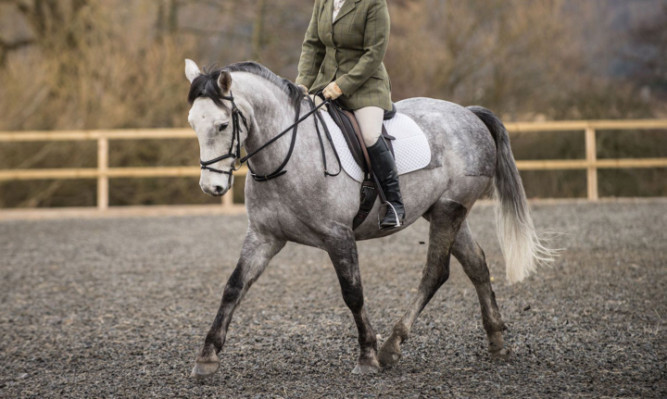 The competition season at new Perthshire venue Netherton Equestrian progressed with a popular February dressage contest.
Classes, which ran from intro level up to elementary, were split between junior and senior competitors with prizes awarded across the board. Courtesy of sponsorship from Direct Line Timber, the two riders who achieved the highest scores of the day from each judge went home with an additional star prize of five bales of shavings each.
First to gain this accolade was Perthshire international event rider Emily Ryder, with her project pony Ana.
They topped the senior section of the prelim 7 test to achieve the highest score of the day an impressive 80.25% from judge Sandra Ramsay.
Defying her age of only five years, Emily said the young 14.2hh pony has proved "an absolute star".
Originally bred in Holland, the mare came to Emily in November: "She was just backed when I bought her and she has rather taken to the dressage arena," explained Emily.
"She is also a cracking jumper, so although she's going to be for sale soon I only want to part with her to an ambitious rider. I really think she has the talent to be an FEI team dressage pony," she added.
Scoring 75.21% under judge Kristine Hynd to take the win from the senior prelim 13 test arena, before also topping the novice 42 test on 69.62% and the second star prize of shavings was Liz Cox, from Carse of Gowrie.
She rode another five-year-old to take the double of wins, her own Connemara cross Warmblood gelding Acton Zorro.
Again, this partnership has only recently been forged.
"He was originally bred in Northumberland by Naomi Barnett and she put him to one of my friends to be sold. I bought him at the end of September," said Liz.
"At that stage he really hadn't done anything, so I really can't believe how well he has come on," she added.
Although Liz, who used to event, has not jumped competitively for "quite a long time", she said Zorro is such a fun and exciting horse to ride that he may well yet persuade her back into eventing.
"He really laps up knowledge," Liz said. Reflecting on their performances at Netherton, she added: "He came out with such a good attitude to his work, he wasn't spooky and he concentrated really well to produce two lovely, balanced tests.
"I don't think he's really ready for novice level yet, but the competition at Netherton is so friendly and welcoming that it encouraged me to give it a go.The surface is also really great."
The competition was adjudicated by Sandra Ramsay (intro and prelim 7) and Kristine Hynd (prelim 13 to elementary).
equestrian@thecourier.co.ukResults
Intro B (senior): 1 Hannah Burns, Siglavy Abe of Balledmand, 66.96; 2 Jackie Henderson, Tojo, 64.78; 3 Eilidh Hill, Artists Lady, 58.91.
Intro B (junior): 1 Michael Sinclair, George, 68.48; 2 Liona Harris, Soli, 59.35; 3 Rachael McLean, Heathpool Yew, 58.48.
Prelim 7 (senior): 1 Emily Ryder, Ana, 80.25; 2 Gail Bonthrone, Jay, 73.5; 3 Andi Bruce, Phoenix, 68.75.
Prelim 7 (junior): 1 Katy Mellor-Jones, Yorkin Texas Moonbeam, 61.25; 2 Megan Kerr, Teddie, 55.5.
Prelim 13 (senior): 1 Liz Cox, Acton Zorro, 75.21; 2 Rebecca Bond, Peggy Sioux, 68.33; 3 Terri Lindley-Hurrell, Ultra Special, 68.13.
Prelim 13 (junior): 1 Katy Mellor-Jones, Yorkin Texas Moonbeam, 62.71; 2 Michael Sinclair, George, 55; Megan Kerr, Teddie, 53.31.
Novice 24: 1 Liz Cox, Acton Zorro, 69.62; 2 Lucie Donaldson, Mud, 64.81; 3 Shonagh Robb, Cracker, 64.62.
Novice 28: 1 Alison Page, Sporting Danillo, 69.17; 2 Terri Lindley-Hurrell, Ultra Special, 66.25; 3 Rebecca Bond, Peggy Sioux, 65.
Elementary 42: 1 Fiona Forbes, Weartic, 67.19; 2 Helen Sinclair, Odin, 66.88.
Elementary 49: 1 Helen Bowman, Archie, 66.83.