 In a bid to fundraise ahead of their double of fixtures for the 2015 event season, the organisers of the Central Scotland Horse Trials hosted an arena event competition at Highfield at Howe.
More than 40 riders contested the initial class of the day the close-run 80cms, which saw the top three riders all incur zero penalties.
Stopping the cross contry clock just 0.47 seconds off the optimum time to take the win was NHS Lothian staff nurse Amy Crozier, from Milnathort, with her eight-year-old blue skewbald Roxy.
Starting the season as they mean to go on, the partnership came to Howe as only their second outing of the year, having enjoyed a successful 2014 which saw then end on the high of an open win at the Gleneagles hunter trials. Throughout the season they also notched up top 10 placings at BE100 level at Hendersyde, Drumclog and Hopetoun.
Amy has owned the Warmblood cross mare for the last six years and initially purchased the daughter of Phanten as a two-year-old from the Horse Sale event at SNEC.
"It really was a bit of a surprise to win the class as Roxy had been especially spooky at the previous arena event at SNEC," explained Amy.
"The course was twisty but it rode well, providing no big issues for Roxy. She is generally quite a confident jumper, however she really made sure not to touch the water tray," added Amy, who now plans to get a couple of early hunter trial runs under her belt with Roxy before kicking off their 2015 event season at the Central Scotland venue Dalkeith.
"Hopefully we'll have as good a year as we did last year," said Amy.
Topping the intro class of 69 entries and almost certainly bagging her place at the series championship final at Blair Castle in September was Fife rider Lorna Balfour and the pint-sized Harvest Maus.
From the nine riders to complete penalty free, they nailed the win by stopping the clock just 0.03 seconds from the optimum time cross country.
Harvest Maus, known as Harry, is now a veteran ride for Lorna: I've had for a number of years," she explained of the 16-year-old 14hh pony by Dietrich Von Buchow.
She said Harry has played second fiddle to her intermediate horse Made to Order of late, but with this mare currently off at the moment, he has been restored to being number one again.
"He was super at the arena event," she said. "He really loved being out jumping the bigger tracks again."
She added: "As always, Les built a really good track that made you ride forwards, use your corners and think about your lines.
"Harry is a very clean, neat jumper so really suits this type of course and I always find them a good warm up for the season."
In the pre-novice section, Harry and Lorna also notched up a third placing, beaten to the finishing line by first placed Claire Johnstone and Nya and second prized Emily Ryder on Dublin.
Taking a second placing within the novice class, before progressing to nail the open intermediate win and in doing so amassed sufficient league points to secure the overall series championship, sponsored by Stirlingshire Saddle Fitters was Perthshire rider Stephanie O'Neil and her consistent mare Mrs Frost.
"I went reasonably steady in the novice class on both my horses as I wasn't sure how tight the course would ride but it rode very well," reflected Stephanie, who hopes to achieve selection for the CIC** European team with the 17-year-old mare, which has evented to advanced level as Millridge Auroras Diamond.
"By the intermediate class, Mrs Frost seemed to have learned the course and she used her nimbleness to get the edge over the competition."
The partnership was ultimately the only combination to stop the inside the optimum time for the cross country phase, having also achieved a penalty free jumping sheet.
"We had a good run after the corner, before having to quickly steady for an up to height bounce at the end," added Stephanie.
"It was really good practise for cross country to make sure I have the ability to adjust her for different types of obstacles," she explained.
Her second ride the nine-year-old gelding Beek Fee finished the class in third position.
"I held him up a little and focused on having a good round," Stephanie conceded. "He felt great and he really feels ready for his first run of the eventing season when we'll tackle the intermediate track at Oasby."
equestrian@thecourier.co.ukResults
80cm: 1 Amy Crozier, Roxy (0,0/32.53); 2 Sophie O'Neil, Silver (0,0/31.65); 3 Anna Dalglish, Dunny The Dun (0,0/31.16); 4 Amy Bryce, Ferns Fantasy (0,1/33.31); 5 Joy Clark, Penhalogen Stardust (0,1/33.31); 6 Chris Macmillan, Glen (0.1/33.35).
Intro: 1 Lorna Balfour, Harry (0,0/32.97); 2 Lorna Stirling, Easy Bay (0,0/32.83); 3 Stephanie O'Neil, Crystal (0,0/32.28); 4 Joy Clark, Penhalogen Stardust (0,0/31.84); 5 Chris Macmillan, Glen (0,0/31.40); 6 Emma Soeder, Spicey Lady (0,0/31.39).
Pre-novice: 1 Claire Johnstone, Nya (0,0/30.78); 2 Emily Ryder, Dublin (0,0/31.09); 3 Lorna Balfour, Harry (0,0/31.13); 4 Jane Brisbane, Barney (0,1/31.24); 5 Zoe Guild, Rubix Cube (0,1/31.35); 6 Louisa Milne Home, Sky (0,2/32.63).
Novice: 1 Emily Ryder, Zippo (0,0/28.83); 2 Stephanie O'Neil, Mrs Frost (0,1/29.10); 3 Emily Ryder, Dublin (0,1/29.60); 4 Sarra Mayberry, J (0,1/29.88); 5 Emma Harvey, Copycat (0,1/29.90); 6 Stephanie O'Neil, Beek Fee (0,2/30.81).
Open Intermediate: 1 Stephanie O'Neil, Mrs Frost (0,0/26.86); 2 Emily Ryder, Zippo (0,1/29.69); 3 Stephanie O'Neil, Beek Fee (0,2/30.74); 4 Sarra Mayberry, J (4,5/29.12); 5 Olivia Morison, Rommy (8,21/45.46).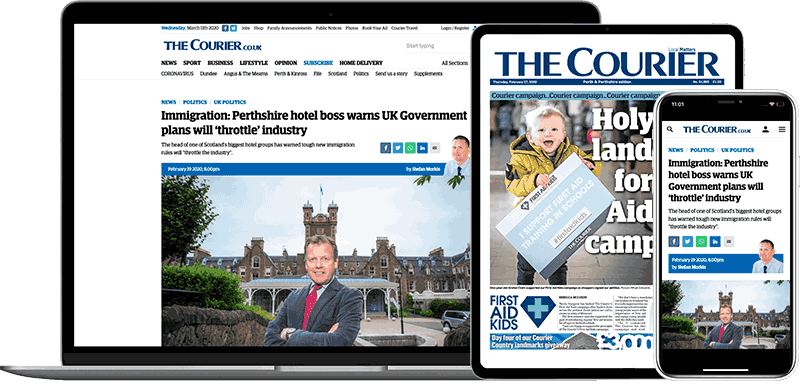 Help support quality local journalism … become a digital subscriber to The Courier
For as little as £5.99 a month you can access all of our content, including Premium articles.
Subscribe